Better together—A partnership through time
Fort St. Joseph National Historic Site
by Fran Robb
1 Universe, 9 planets, 204 countries, 809 islands, 7 seas and we at Parks Canada had the privilege of meeting Leo and Theresa Binda here at Fort St. Joseph National Historic Site. A meeting which has developed into a partnership guided by mutual trust and respect.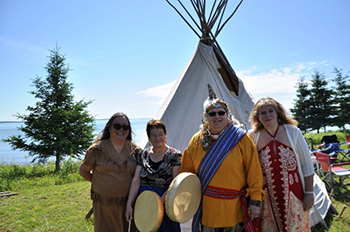 For the past 20 years, husband and wife, Leo and Theresa Binda have worked together with Parks Canada at Fort St. Joseph to form a strong partnership to further knowledge and create an understanding of First Nation's culture.
Through many events, such as the Medicine Walk, Leo and Theresa along with the Healing Lodge Singers, have taught us to listen from the place of connection to the Spirit that lives in all beings—water, earth, air, plants, trees, insects, animals, humans being part of the animal world and all water beings. We can learn that we are a part of the Mother Earth, not apart from her.
We learn that Indigenous peoples are caretakers of Mother Earth. From this we can learn to care, to realize, and respect her gifts to all life.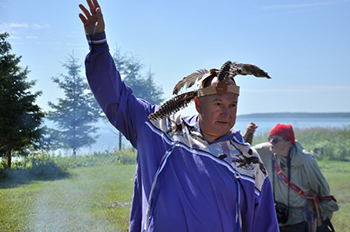 Leo and Theresa have been teaching the "First Story" here at old Fort St. Joe, helping staff and visitors to understand a culture that existed before European contact.
At our last event, RendezVous 150, on July 3, 2017, Leo, Theresa and the Healing Lodge Singers greeted and held ceremonies for the incoming Voyageur Brigade. Theresa, as a Water Guardian, blessed the waters they brought from Lake Athabasca and the Saskatchewan River meeting the waters of Lake Huron.
On August 12, 2017, Leo and Theresa along with the Healing Lodge Singers will be teaching Indigenous Medicine at our very popular annual Medicine Walk.