Rehabilitation of the Stores Building
Sault Ste. Marie Canal National Historic Site
by Barry Guzzo
Built in 1896, the Stores Building is a significant piece of Canadian heritage, and its preservation has been designated top priority status through Parks Canada. It was assessed as being in imminent threat of short-term catastrophic failure in 2010.
Located at the Sault Ste. Marie Canal National Historic Site, this red sandstone building has been closed since 2010 due to severe cracking within the foundation and masonry displacement of its walls. Federal Infrastructure Investment project funding had initially assigned $2.2 million to repair the foundation and south wall, which had separated from the main structure.
Even though initial investigations had been done, once construction started the extent and magnitude of decay was found to be greater than expected. The foundation was not connected to the bedrock which had caused severe differential settlement, while the high water table caused water infiltration problems which was a serious obstacle to overcome.
The design engineer decided to use micropiles*, to build a new foundation under the existing walls. Micropiles allowed for minimal vibrations and disruptions to the existing structure, as well as allowing a connection to the bedrock without any excavation. This kept the building foundation as stable as possible during this construction phase.
During construction it was discovered that movement within the foundation had caused the east wall to become structurally compromised, splitting into two from the ground up to the second storey. The second floor was also found to be in a state of severe decay once the stone surrounding the floor joists had been removed. This left the east and west walls unconnected. In order to pour the new foundation the building needed to be able to support itself, to ensure there was no catastrophic structural failure. To combat this, contractors used masonry anchors in the collapsing east wall in order to stabilize it.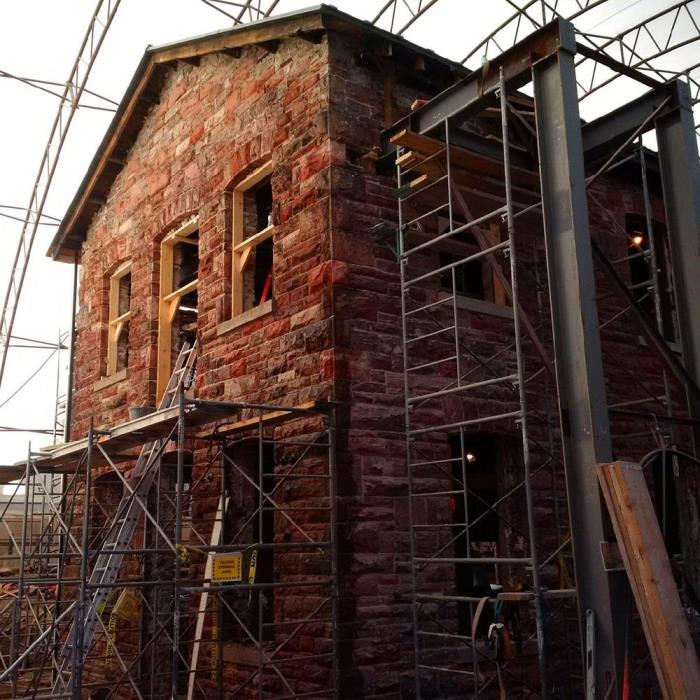 The south wall of the Stores Building features extensive masonry work, but many of the stones required replacement or repair. Several unique methods were applied. 3-D modeling and extensive laser scans of the south wall were taken, pinpointing the exact location of stones on the wall. These stones were then taken from the wall piece by piece, recorded and stored. Damaged stones went off to the mason for repair or replacement. There were about 1,200 stones removed, and less than 15 per cent of the removed stones required repair or replacement.
The reconstruction process proved to be quite challenging; due to the structural instability of the foundation the building slumped, meaning stonework needed to be realigned in order to put the building back together properly squared. Nevertheless, this past October a major milestone was reached with the completion of the reconstruction of the south wall.
*Micropiles are 305mm (12-inch) concrete cylinders inside a steel pipe casing with steel reinforcement