Community Update: Replacement Progressing Well
Rideau Canal National Historic Site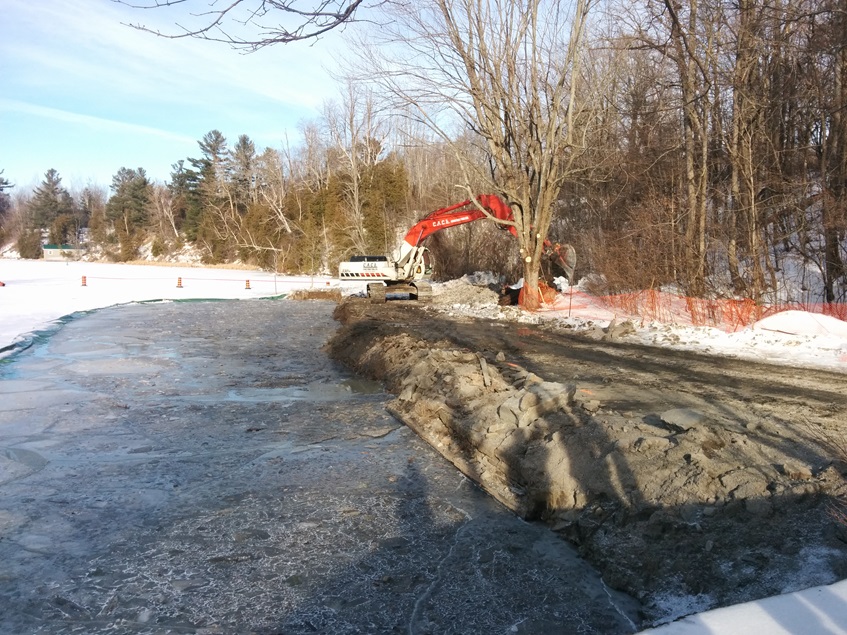 February 2, 2018– Since December, the contractor at Lower Nicholsons Wharf on the Rideau Canal National Historic Site has been hard at work. The demolition of the wharf is now complete and reconstruction of the wharf will begin in the coming weeks.
The contractor began the project by installing a turbidity curtain in the Rideau River to contain construction related sediment and preserve the surrounding environment. Once the curtain was in place, work began on the demolition of the wharf. First, the concrete deck from the old wharf was removed, followed by the timber crib base. Starting next week, reconstruction will begin with the laying of gabion stone in the footprint of the previous wharf. The stone will provide the foundation of the structure and new timber cribbing will be built on top of the stone. The wharf will be finished with a poured concrete deck.
This work will extend the life of the wharf and provide opportunities for locals and visitors alike to enjoy boating and recreational activities along the canal.
Lower Nicholsons Wharf rehabilitation is part of Parks Canada's unprecedented $3 billion dollar investment over 5 years to support infrastructure work to heritage, visitor, waterway and highway assets located within national historic sites, national parks, and national marine conservation areas across Canada.
About Nicholsons
In the mid-1820s Colonel By made plans to construct a dam, lock and embankment at Nicholson's Rapids. The plan had the dam bypass the rapids with a canal cut along the east bank. Work was completed by contractor H.C. Steven and Co. who worked diligently on the canal cut and lock construction. Local stone from Clowes' Quarry was used to build the locks and dam.
For More Information:
For up-to-date news on infrastructure work along the Rideau Canal, please visit our website: www.pc.gc.ca/rcInfrastructure. If you would like to be added to our community engagement list and receive updates on this project, please e-mail RideauCanal.info@pc.gc.ca and include "Lower Nicholsons Wharf" in the subject heading.