Heritage trails
Fort George National Historic Site
Niagara Heritage multi-use trails
Enjoy paved and unpaved trails between Fort George, Butler's Barracks, and Paradise Grove in beautiful Niagara-on-the-Lake by walking, running, biking, and dog walking. The trails include the heritage roads of Camp Niagara, which operated as a training camp for the Canadian Army. Paradise Grove was originally planted to support ship building on the Great Lakes. The trails are free to use and available year-round, though trail conditions vary depending on the weather (trails are not salted or cleared of ice and snow in the winter).

The trails link Fort George National Historic Site and Butler's Barracks National Historic Site. A beautiful tree lined loop on the grounds at Butler's Barracks features sculptures and historic plaques. The trails pass Paradise Grove, offering woodland views home to some Carolinian forest species. The trails meet up with the Lake Ontario Waterfront Trail and the Niagara River Recreation Trail.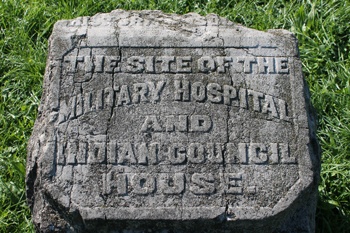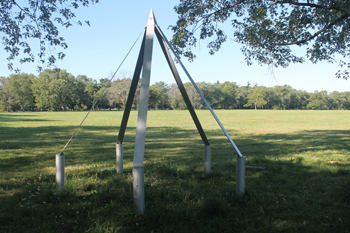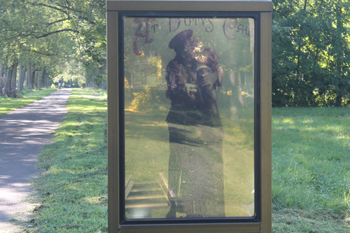 Features

Paradise Grove
Otter Trail
Indian Council House
Engineer's Bridge
Athlone Road
Princess Alice
Camp Niagara Bell Tent sculpture
Canada's Carolinian zone panels
Scheaffe Road
Military railway sculpture
1st Canadian Parachute Battalion plaque
Butler Road
Spirit, combat, and lore – A walk to remember panel
The scouting movement in Canada plaque
250 years of military history in Canada panels
Safety and Trail Etiquette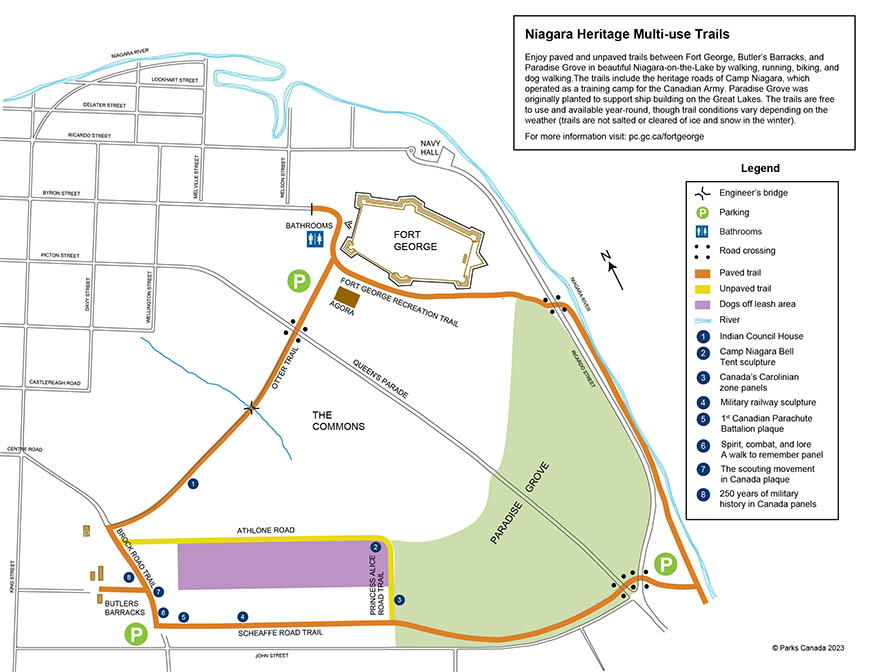 ---
Be respectful of others and practice good multi-use path etiquette.
Follow public health office recommendations and practice physical distancing. Step off paths to let others pass or wear a mask where physical distancing isn't possible.
Use caution at road crossings.
Some parts of the trail are paved, and some parts are unpaved.
Some trails have steep grades and steps.
Trail conditions vary depending on the weather (trails are not salted or cleared of ice and snow in the winter).
Know your limits and be safe.
Pack in and pack out if garbage and recycling receptacles are not available.
Domestic animals
Dogs are permitted to be off-leash along the gravel multi-use paths known as Athlone Road Trail and Princess Alice Road Trail, and within the grassy area to the South and East (see purple off leash area on the map above).
Dogs must remain on-leash (maximum length of 3 metre) on all other trails and in all other areas administered by Parks Canada in Niagara-on-the-Lake.
Clean up after your dog and pack out any waste bags, if receptacles are not available.
In all areas, dogs must be under the care and control of their owners at all times.
Ensure your dog does not attack, harass or chase a person, animal or vehicle.
Consider leaving your dog at home if you are not willing to have it on a leash at all times outside of the designated off-leash area.
Parks Canada wardens are conducting patrols to ensure compliance and staff will continue to monitor visitor use.
Trail difficulty*
Easy
No experience needed.
Hard-packed surface, no obstacles, minimal stairs.
Little or no change in elevation.
Facilities may include: parking, washroom.
*Learn more about Parks Canada trail ratings