Stay overnight in an oTENTik
Grand-Pré National Historic Site
Our oTENTik season will run from June 14 to October 8, 2023. Reservations for the 2023 season can be made starting on March 17, 2023 at 8 am (ADT).
Call 1-877-737-3783 or visit reservation.pc.gc.ca to reserve.
Each tent can accommodate up to six people.
Check-in time: between 3 pm and 5 pm at the Visitor information center.
Check-out time: 11 am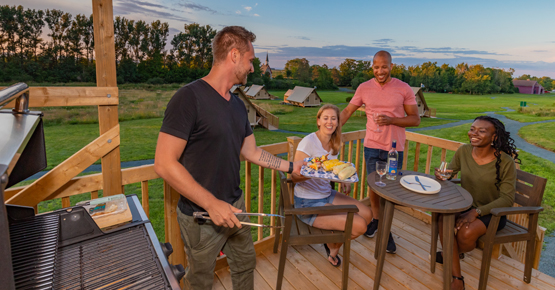 You can now sleep in the beautiful Landscape of Grand-Pré!
Camping is the newest way to truly experience the beautiful Grand-Pré National Historic Site. Our ready-to-camp oTENTik accommodations are certain to offer a remarquable experience and a breath-taking view.
We are pleased to share that Parks Canada has recently installed eight oTENTik units in the fields south of the Visitor Information Centre at Grand-Pré National Historic Site. Parks Canada's oTENTik is described as a cross between a tent and a rustic cabin. The oTENTik has a wooden frame with canvas covering and a wood floor. It is ideal for campers who want the comforts of home while experiencing the great outdoors.
This new offer will give visitors a one of a kind, immersive experience of Grand-Pré National Historic Site and the Landscape of Grand-Pré World Heritage Site. The accommodations are also suitable for cyclists and other users of the Harvest Moon Trailway.
Fees
Access to the grounds at Grand-Pré National Historic Site is free. However, campers must pay fees to visit the Visitor Information Centre and Memorial Church as well as for programming. Parks Canada Discovery Passes are valid.
Accommodations
Camping sites can accommodate six person maximum (exceptions can be made for families)
Failure to show up ("no show"): If you have not checked in at the site by 11 am the day after your scheduled arrival date and have not contacted the site to inform them of your late arrival, this will be considered a "failure to show up" - your reservation will be cancelled and your accommodations will be offered to other campers
Clients must register at the information centre
Check in time is between 3 pm and 5 pm
Check out is at 11 am
Quiet hours are from 10 pm to 8 am
Fire
Fires are not allowed on site. But we have propane fire rings to rent for your convenience
Alcohol
Alcohol may only be consumed on a registered campsite
Alcohol is not permitted in day-use or public areas
Pets
Cancellation
Full refund if cancelling at least 3 days (72 hours) prior to your arrival date
50% refund if cancelling before 11 am the day prior to your arrival date
No refunds or cancellations beyond 11 am the day prior to your scheduled date of arrival
Other
Smoking is not permitted in the oTENTik
Operation of propane stoves is not permitted in the oTENTik
Frequently asked questions
Who is the oTENTik for?

For the nostalgic who have done a lot of camping in their life but are now looking for more comfort.
For those who have never really been attracted to camping (for many reasons: no equipment, fear of discomfort, bad weather) and for those who wish to live the camping experience.
For families and populations in/near urban areas who wish to experience the joys of camping with ease.
oTENTik is for all ages, therefore this addresses multigenerational groups.
For many new Canadians, this is an ideal way to discover the camping culture.
For people who like camping but are no longer equipped or have obsolete equipment.
For people who wish to travel light while indulging in the joys of camping while being comfortable.
What is provided in the oTENTik?

One double bed, two single beds and a bunkbed, table and seating for 6 people, lantern, picnic table, propane heater, barbecue with burner, fire extinguisher, smoke and carbon monoxide detectors, broom, dustpan, potable water carboy, garbage can and garbage bags. Select propane fire pits are also available to rent.

*Please note that there is no electricity, plumbing, or running water in the oTENTik.
What should I bring when staying in an oTENTik?

Sleeping bags, blankets, pillows, water containers, food, drinks, cooler, indoor slippers or shoes, bug spray, toiletries, flashlights, matches or a lighter, dishes and cutlery, cooking gear, dish cloth and soap, and all other camping necessities. (Extra blankets and sleeping bags are recommended in May, September and October)
Where can campers park their vehicles?

Parking is located at the Visitor Information Centre. Plan for a short walk (250 m) on on a gravel path to reach the oTENTik. Push carts are available to help carry your camping essentials.
What facilities are provided to campers?

Campers will have access to washroom and shower facilities located within the Visitor Information Centre. Campers will also have access to nearby portable toilets and hand washing stations. The construction of more permanent infrastructure in closer proximity to the oTENTik is planned in the coming years.
What will security look like on site?

Additional staff will be hired and assigned to the oTENTik offer. Parks Canada will hire security personnel to be on site after operational hours and site staff will be on call to provide additional support if needed.
Basic rules and regulations for the oTENTik

For your safety, cooking is not allowed inside the oTENTik, and Picnic tables are available outside.
Alcohol may only be consumed at registered campsites and is not permitted in any public buildings or day-use areas.
Fires are not permitted on site, however propane fire pits can be rented on site.
Smoking is not permitted within the oTENTik.
Pets are not allowed in the oTENTik.
Designated quiet hours are between 10 pm and 8 am.
Is there additional construction work to be completed before the oTENTik are ready to open?

Trail construction, landscaping and renovations to the VIC washroom and shower facilities are scheduled to be completed this spring.
How is the project adapting to COVID-19?

The health and safety of visitors, employees and all Canadians is of the utmost importance to the Government of Canada. Parks Canada is following the advice and guidance of public health experts and continues to make every effort to limit the spread of COVID-19. Our ability to open and operate the oTENTik during the 2022 season will depend on provincial and federal COVID-19 regulations and guidelines. Precautionary measures and cleaning protocols will be implemented to assure the safety of the campers. Please check our website and social media pages for updates before booking your stay.