oTENTik
Fort Langley National Historic Site
Stay overnight in Vancouver's only fort
Information | Equipment | Food amenities | Activities | Rules and regulations | Reservation policies
oTENTik camping experiences in Vancouver and Victoria, BC
What is an oTENTik?
oTENTik, exclusive to Parks Canada, is a cross between an A-frame cabin and a prospector tent mounted on a raised wooden floor. This water resistant accommodation is built to withstand diverse weather conditions and no set-up is required by campers. Each of the five units inside Fort Langley's historic walls represents the heritage of Fort Langley's diverse workers:
oTENTik 1 –

hǝn Ɂǝ́mǝt

– First Nations
oTENTik 2 – The Aloha – Hawaiian (ramp accessible)
oTENTik 3 – Chez Louis – French-Canadian voyageurs
oTENTik 4 – What Cheer House – North American gold prospectors
oTENTik 5 – Stromness – Scottish boat builder's tent
Our 2024 oTENTik season runs from May 15 to September 15. Reservations for the 2024 season can be made starting at 8 a.m. PDT on January 19, 2024.
Call 1-877-737-3783 or visit reservation.pc.gc.ca to reserve.
There are five oTENTik units available; each can accommodate up to six people, with four single lower bunks, arranged in pairs, and one upper bunk (double size)
Download: oTENTik site map (PDF, 1.33 MB)
Fees: View cost on fees page
A non-refundable reservation fee also applies.
---
oTENTik Equipment and supplies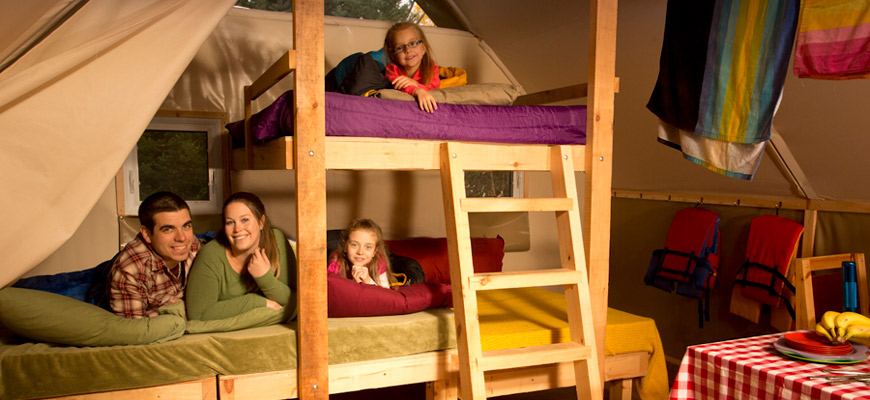 While Hudson's Bay Company workers would be required to set up camp when travelling and bring their own supplies, we've done the work for you, no fuss no muss! Here is what is included with each oTENTik rental and what to bring.

Inside each tent:
Sleeping area for up to six people
Table and chairs
Broom and dustpan
Electricity, heater, mini fridge
Outside the tent:
Fire pit and BBQ (includes accessories and propane)
Picnic table
Common service building with toilets, sinks, and WIFI hotspot.
Farm animals to visit (summer only)
Options available for an additional fee:
Prevent the spread of pests. Buy firewood where you will burn it.
Nearby:
Parking
Short walk to grocery store, restaurants, cafe, easy biking/walking trail "The Fort-to-Fort Trail"
Equipment to bring (this list is not exhaustive):
Sleeping bags, blankets and pillows
Cooking utensils and dishes
Food, snacks and drinks
Clothing
Slippers or indoor shoes
Flashlights
Matches or lighter
Camping chairs
Insect repellent
Bicycles
---
Food amenities
NOTE: Cooking is not permitted inside the tent
Walk to numerous restaurants in the village of Fort Langley (situated within walking distance of the site)
BBQs are available for each individual oTENTik
Drive to farms and wineries on the Circle Farm Tour
Alcohol
Responsible use of alcohol is permitted after 5 p.m. within your camping area
---
Activities
Fort Langley National Historic Site offers many activities to keep you busy and having fun!
A few seconds from your oTENTik tent
Plan to spend the day exploring Fort Langley National Historic Site. Watch blacksmithing demonstrations, learn to build a barrel, visit the farm animals and try your hand at gold panning, you might just strike it rich. Plus don't miss our many interpretive programs offered by our costumed guides.
A few minutes from your oTENTik tent
Explore the village of Fort Langley, browse the antique shops and stop for a treat
Walk the Fort-to-Fort Trail. Enjoy the 6 km walk along the Fraser River, take in the astounding views of the surrounding mountains
Visit Brae Island Regional Park and take a walk around
Rent a bike in town and explore the surrounding area
A few minutes by car from your oTENTik tent
Berry picking, winery tours and more on the Circle Farm Tour
Winery Tours
Greater Vancouver Zoo
Shopping in nearby Langley or Abbotsford
Walnut Grove offers a movie theatre and indoor swimming
Learn more from the Tourism Langley website
---
Rules and regulations
Parks Canada oTENTik users must abide by the following rules:
Check-in time: 3 p.m. - 5 p.m. at the site's Visitor Centre (23433 Mavis Ave).
Check-out time: 11 a.m. or earlier.
A valid credit card is required for check in.
A minimum of one adult per oTENTik must be at least 19 years of age. If renting more than one oTENTik, we require at least one representative from each tent to check in at the Visitor Centre and receive orientation.
For your safety, no food preparation or cooking is allowed inside the tent.
Smoking is not permitted within the tents or within the Fort walls. Designated smoking area is provided outside the fort walls.
Pets are not permitted on site.
Quiet time is from 10 p.m. - 7 a.m.
If you would like to listen to music, please use personal headphones only.
A fire is only permitted in the group firepit. Please use a bundle of firewood purchased on site, and not the supply of staff firewood located elsewhere on site. NOTE: During particularly hot, dry conditions campfire bans may be in effect. At these times, we are not able to offer campfires in the fort, however guests will continue to be able to use the BBQs. To check whether or not there is a campfire ban in place, please consult: bcwildfire.ca/hprscripts/wildfirenews/bans.asp
Please collect your garbage and leave it in the garbage cans.
You will be able to review a list of costs that apply to damaged or missing oTENTik supplies. These costs will be applied to recover the expenses for damages that you or your guests cause.
Subject to fine and/or expulsion, it is forbidden to:
- Behave in a way that disturbs others (partying, etc.).
- Keep one's oTENTik in a condition deemed unsatisfactory by the Park Staff.
---
Visit our National page to learn about other oTENTik offers!