Culture and history
First Oil Well in Western Canada National Historic Site
Alberta's oil boom started here
Travel the 16 km long Akamina Parkway from Waterton's lakeshore community in the southwestern corner of Alberta and enter a world seemingly untouched by civilization. Follow the road through towering mountains and thick blankets of trees. Discover a valley rich in Indigenous and petroleum history. Learn how early explorers used the seeping petroleum as lubricants, medicine and insect repellant for livestock.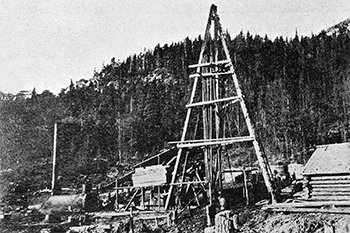 Stop and explore the First Oil Well in Western Canada Historic Site to learn how entrepreneur, John Lineham drilled through the solid rock to reach a small reservoir of thick oozy oil. The hole was plagued with cave-ins and within a year the drill casing was trapped - sealing off the flow of oil forever.
At the monument, reach out and touch the old casing, as it was the day it stopped producing. Walk the trails along the creek and watch for deer and elk.
In 1965, the discovery well was declared a site of national historic significance and designated the First Oil Well in Western Canada. A monument incorporating the embedded drilling tools was designed specifically for the site and erected in 1968.
Continue exploring the valley to Cameron Lake where boating, fishing and cross-country skiing are enjoyed. Waterton Lakes National Park is designated as a UNESCO Biosphere Reserve and the Canadian side of the Waterton-Glacier International Peace Park, a UNESCO World Heritage Site.