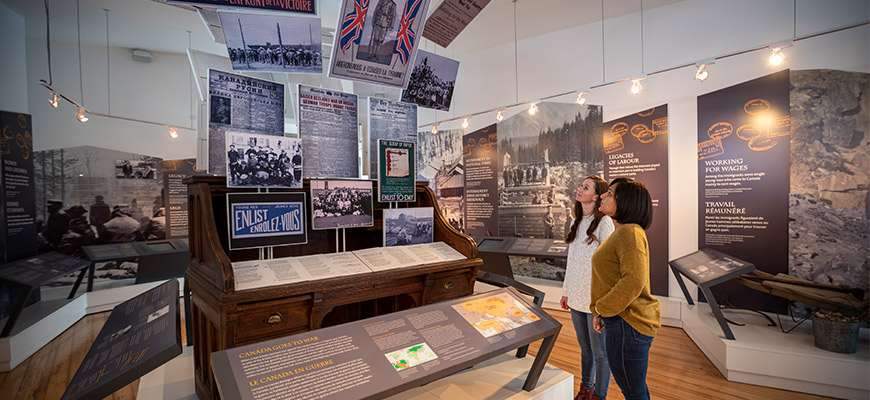 First World War Internment Exhibit
Cave and Basin National Historic Site
Through National Historical Recognition Program funding, Parks Canada has created an exhibit to increase awareness about Canada's First World War internment operations 1914-1920. The 1,000 ft2 exhibit, located adjacent to the Cave and Basin National Historic Site in Banff National Park, includes interactive touch-screens, mixed media and two-dimensional displays that encourage visitors to discover at their own pace and reach their own conclusions about a difficult and challenging time in Canadian history.
---
Internment in Canada
When the First World War began in 1914, there was widespread suspicion in Canada that immigrants from enemy countries – Germany, Austria-Hungary, and later Turkey and Bulgaria– might be disloyal. Labelling them "enemy aliens," the federal government passed regulations which allowed it to monitor and even intern some of these immigrants. Merchant marines and military reservists were also interned. During and immediately after the war, 8,579 enemy aliens were interned as prisoners of war across the country.

Internment camps and receiving stations were located across the country.
© Sir William Otter's Report on Internment Operations, 1914-1920, Ottawa:King's Printer, 1921
Printable Version, (PDF, 4.72 Mb)
The Camps

Camps were set up mostly in Canada's hinterland. Some were used for several months, while others operated through to 1920. In most camps, men were divided by ethnicity and by class. First Class prisoners were primarily German officers and their civilian equivalents. Second Class prisoners were mostly civilian enemy alien labourers from Austria-Hungary.

Women and children were not subject to internment, yet some had little choice and accompanied their male relatives into the camps. Only two, Spirit Lake (pictured) and Vernon, were set up to receive families.
National Parks

During the war, the government reduced the budget for national parks. Parks Commissioner J.B. Harkin therefore obtained permission to use enemy alien internees as low-cost labour. Four internment camps opened in Canada's western national parks: at Banff, Jasper, Mount Revelstoke and Yoho. Internees did a variety of work, including constructing roads and clearing land. Through their labour, the internees played an important part in building Canada's western national parks.

© Glenbow Archives / Archives du musée Glenbow, NA-1870-7
Banff

The internment camp in Banff was established at Castle Mountain in July 1915, then moved to Cave and Basin that November. Internees in Banff lived and worked in basic conditions, and there were many reports of rough treatment by guards. Some internees resisted, and escapes were common. The internment camp in Banff closed in July 1917. The remains of former sites of internment are few, but are a testament to this little-known episode in Canada's history.

© Glenbow Archives / Archives du musée Glenbow, NA-1870-2