Rose Fortune National Historic Person (c.1774-1864)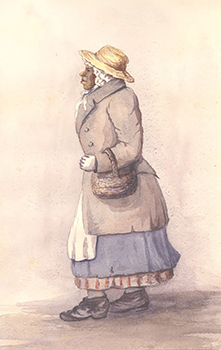 Rose Fortune was designated a national historic person in July 2017.
Commemorative plaque: Plaza at corner of St. George and Church Street, Annapolis Royal, Nova Scotia
Born into slavery in the British colonies that became the United States, Rose Fortune was one of more than 3,000 Black Loyalists who gained freedom and resettlement in Nova Scotia in 1783–1784 by supporting Britain in the American Revolution. In Annapolis Royal, where she moved with her parents and siblings, Fortune started a successful baggage-carting business and earned respect by informally policing the waterfront. Long a source of pride for African Nova Scotians, the story of Rose Fortune epitomizes the perseverance of Black Loyalists, who confronted prejudice and inequality to make a place for themselves in Canada.
*Note: This designation has been identified for review. A review can be triggered for one of the following reasons - outdated language or terminology, absence of a significant layer of history, factual errors, controversial beliefs and behaviour, or significant new knowledge.
Rose Fortune
Rose Fortune's life and accomplishments represent the struggle of the Black Loyalist community, and Black Loyalist women in 18th century British colony of Nova Scotia. One of more than 3,000 Black Loyalists who arrived in Nova Scotia in 1783-84, Fortune defied the barriers and prejudices of the time to become a respected and prominent member of the community. In the face of the many threats Black women of her time encountered, she is known for keeping peace and order on the waterfront where she worked for more than 20 years. Since the early 20th century, Fortune's story has become a source of ongoing pride to the African-Canadian community. Her life represents the endurance and survival of the Black Loyalists, the first wave of northward Black migration, who overcame prejudice and economic marginalization to make their place in this country.
Fortune was born circa 1774 in the British colonies that became the United States. Her family were Black Loyalists: slaves who had gained their freedom for supporting the British in the American Revolutionary War, and resettled in British territory. As such, they travelled from New York as part of the 3,000 Loyalists evacuated to Nova Scotia at war's end, and settled in Annapolis Royal. As an adult, Rose Fortune became a figure of renown in Annapolis Royal and throughout Nova Scotia for her business of carting baggage to and from the waterfront and for acting as the unofficial town "police officer" well before the existence of a professional police force. Travellers passing through Annapolis Royal, military officers, and officials wrote of their encounters with her. They described her carrying bags, rousing her clients to catch their boats, and disciplining local boys who might get in her way. Residents of Annapolis Royal remembered her with great affection as an iconic representative of their town and a determined keeper of order on the streets. She was the subject of an anonymous watercolour from the 1830s, one of only two contemporary images of Black Loyalists. In the 1920s a Montréal journalist, inspired by the portrait, researched the life of Rose Fortune and her impact on Annapolis Royal, gathering living memories of Fortune that illustrate the power of her character and the impact she had in her lifetime. Her descendants have also preserved and re-told her story.
Very few complete life stories of the Black Loyalists have survived, and none of a Black Loyalist woman. The few accounts left of this group of migrants record moments of transition or brief narratives of struggle, providing only fragmented insights into the lives and the achievements of this group in Canadian history. Rose Fortune's story tells of a Black Loyalist life from childhood migration through a life of community activity, to her legacy in Nova Scotia and in the Black Canadian community.
The National Program of Historical Commemoration relies on the participation of Canadians in the identification of places, events and persons of national historic significance. Any member of the public can nominate a topic for consideration by the Historic Sites and Monuments Board of Canada.