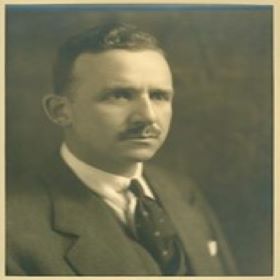 For the week of Monday, December 4, 2023.
On December 10, 1948, in the United Nations (UN) General Assembly, 48 member states voted in favour of a resolution adopting the Universal Declaration of Human Rights. John P. Humphrey, a Canadian international civil servant, played an important role in its drafting as the first director of the UN Human Rights Division (1946–1966).
Humphrey was born in Hampton, New Brunswick, in 1905. At age 17, he followed his older sister, Ruth, to Montréal, where he studied at McGill University. He passed the bar in 1929 and received a Macdonald Travelling Scholarship to continue his studies in France. In 1930, he returned to Montréal and worked at a law firm before pursuing graduate studies. In 1937, he started teaching at McGill, developing a new course in Roman Law and becoming an outspoken advocate for peace and internationalism.
Humphrey led a rich social life within the vibrant intellectual and cultural scene of 1930s Montréal, but perhaps his most important friendship was with physiologist Henri Laugier. After joining the UN as Assistant Secretary-General for Social Affairs in 1946, Laugier asked Humphrey to lead the Human Rights Division. Humphrey accepted and served as director for the next two decades.
The most significant work he undertook during that period was supporting the drafting of the Universal Declaration of Human Rights. The executive of the Human Rights Commission had asked Humphrey and his staff to collect examples of models from around the world and prepare a draft in January 1947. By March, Humphrey and his staff had completed a preamble and 48 articles that served as the basis for the final version adopted by the General Assembly in December 1948. The Universal Declaration of Human Rights gradually became part of customary law, inspired many international human rights conventions and declarations, and informed subsequent Canadian efforts to recognize and protect human rights. Humphrey continued to defend and advance the UN human rights program in the years that followed, organizing seminars, giving public lectures, and supporting the development of two legally binding, multilateral treaties, or covenants, that together with the Declaration, made up the International Bill of Human Rights.