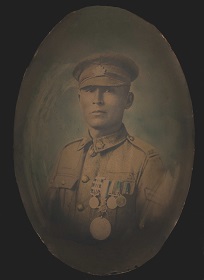 For the week of Monday May 30, 2022.
On June 3, 1916, Francis Pegahmagabow, who gained distinction as a sniper and a scout during the First World War, was among the first Canadian soldiers awarded the Military Medal. He went on to become one of the most decorated Indigenous soldiers in Canadian history and a postwar activist for Indigenous rights.

Pegahmagabow was born on March 9, 1889, at what is now Shawanaga First Nation on the eastern shore of Georgian Bay, Ontario. He was an Ojibwe Nishnaabe, member of the Caribou clan, and part of the Wasauksing First Nation. After his father died and his mother became gravely ill, he was raised by extended family at Shawanaga First Nation. He later moved to nearby Parry Sound, where he attended high school.

Enlisting just days after Canada entered the First World War in August 1914, he went overseas with the 1st Canadian Battalion later that year and served for the duration of the war, seeing action in France and Belgium. In the battles at Ypres, Festubert, and Givenchy in 1915, he served as a messenger and earned the Military Medal for bravery in the field. He was wounded in the leg at the Battle of the Somme in 1916 and had to recover in England, but returned to the battlefield in 1917. At the Battle of Passchendaele, his bravery in relaying information and directing reinforcements earned him a bar to his Military Medal, and he was promoted to Corporal in November 1917. He earned another bar in 1918 for his service during the Hundred Days Offensive, his commendation describing how he delivered ammunition to his company while under heavy machine gun fire.

When the 1st Battalion was not in active battle, Pegahmagabow distinguished himself as a sniper and scout. He carried a medicine pouch for spiritual protection as he worked alone with his sniper rifle in contested territory, reporting on enemy movements. As a sniper, Pegahmagabow had 378 unofficial kills, which would make him one of the most accomplished snipers of the First World War. He worked alone, leading some to question these figures. However, Dr. Brian McInnes, a member of Wasauksing First Nation and descendant of Pegahmagabow, explained: "The taking of life, even in war, was not something about which the Ojibwe should ever brag. It would be an even greater dishonour to lie about such action."

After the war, Pegahmagabow returned to Wasauksing First Nation. Even though he was a decorated veteran, he faced discrimination as a First Nations man, and had difficulty accessing the benefits available to veterans. He served as chief from 1921 to 1925 and then again from 1942 to 1945. In this role, he fought for what he believed was fair treatment for his people. He attempted to address long-standing treaty grievances, and set out to challenge the policies of the Department of Indian Affairs, whose locally appointed Indian Agents had the power to override band decisions and control band funds. In the 1940s, he joined in political organizing on a national level and attended important national conferences of Indigenous leaders. He also became involved in an Indigenous rights organization called the National Indian Government, which he led as supreme chief in 1949–1950. Pegahmagabow remained an activist until his death in Parry Sound in 1952. He is remembered today both as a Canadian military hero and as a passionate advocate for Indigenous rights.