Francis Pegahmagabow National Historic Person (1889-1952)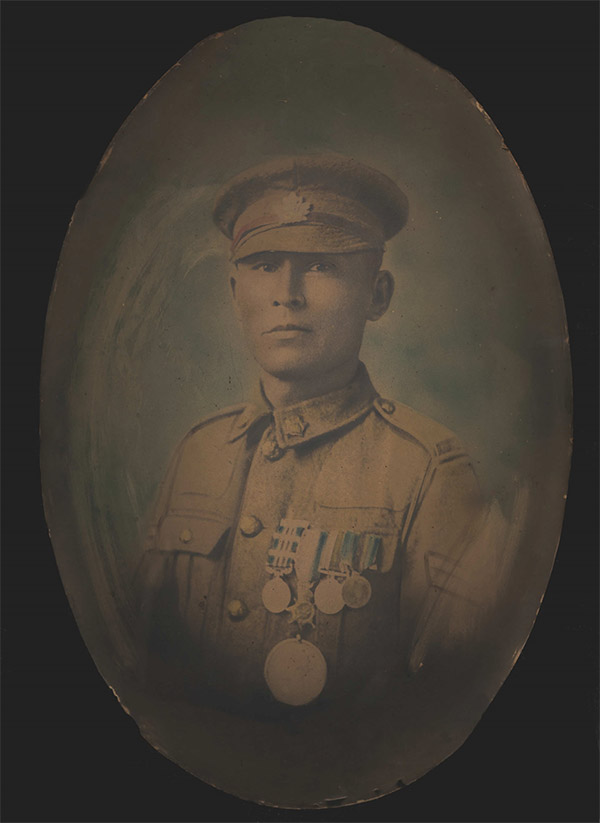 Francis Pegahmagabow was designated as a national historic person in 2019.
Historical importance: Ojibwe Nishnaabe of Wasauksing First Nation, highly decorated soldier in the First World War. He advocated for Indigenous rights from the 1920s to 1950s.
Commemorative plaque: no plaque installedFootnote 1
Francis Pegahmagabow (1889-1952)
Francis Pegahmagabow was a highly-effective sniper and scout in the First World War, and his military service and passionate advocacy for Indigenous rights continue to be an inspiration to his Nishnaabe community. He was among the earliest enlistees following the declaration of war. He fought in a number of significant battles and received the Military Medal and two bars for his bravery in action. Facing discrimination and strict regulation under the Indian Act upon his return that contradicted his voluntary military service to Canada, he became a political leader in Wasauksing First Nation, and later nationally, and fought for treaty rights, persevering in the face of restrictions placed upon First Nations by the federal government. Pegahmagabow is a recognized Canadian war hero and a respected figure in Wasauksing First Nation.
Francis Pegahmagabow was born on March 9, 1889 at what is now Shawanaga First Nation, on the eastern shore of Georgian Bay, Ontario, the only child of Michael Pegahmagabow and Mary Contin. He was an Ojibwe Nishnaabe, a member of the Caribou clan, and part of the Wasauksing First Nation. On August 13, 1914, ten days after the declaration of war, Pegahmagabow enlisted to serve as a member of the 1st Battalion, 1st Division of the Canadian Expeditionary Force, which was part of the first contingent sent overseas. Over the course of the war, Pegahmagabow was promoted to corporal, and received the Military Medal and two bars for bravery on the battlefield. He became widely-known as a skilled sniper and scout, and fought in a number of major battles, including the Second Battle of Ypres, the Battle of Passchendaele, and the Hundred Days Offensive. In 1919, he was one of almost 200 veterans to be decorated with his awards by the visiting Prince of Wales, the future King Edward VIII, at the Canadian National Exhibition in Toronto.
After the war, Pegahmagabow re-entered civilian life, determined to establish himself at Wasauksing First Nation. There, he married Eva Tronche, and together they had eight children, losing two sons in early childhood. Between the 1920s and his death in 1952, Pegahmagabow was a community leader and political organizer who fought for the rights of Indigenous peoples. As chief of Wasauksing First Nation from 1921 to 1925, he tried to address numerous treaty transgressions and voiced grievances to the Department of Indian Affairs. He again served as chief from 1942 to 1945 and, during this time, he became part of Indigenous political organizing at the national level. In 1943 and 1944, he attended conventions that brought together Indigenous leaders from across the country, the second of which resulted in the founding of the North American Indian Brotherhood. In 1945, he became a member of the National Indian Government, an organization that advocated for the autonomy of First Nations from the Indian Act, and served two terms as Supreme Chief of this organization in 1949 and 1950. He travelled widely and corresponded with Indigenous peoples across Ontario, who sought his guidance on a wide range of issues from unresolved land claims to curtailed fishing and trapping rights.
Francis Pegahmagabow died at St. Joseph's Hospital in Parry Sound, Ontario, on August 5, 1952, after suffering a heart attack. He is buried in a military grave in Parry Sound. A bronze statue of Pegahmagabow also stands in Parry Sound, and his military medals and headdress are part of the permanent exhibit at the Canadian War Museum in Ottawa. He was nominated for consideration by the Historic Sites and Monuments Board of Canada by family members and his nomination was supported by Wasauksing First Nation.
Backgrounder last update: 2019-06-13
The National Program of Historical Commemoration relies on the participation of Canadians in the identification of places, events and persons of national historic significance. Any member of the public can nominate a topic for consideration by the Historic Sites and Monuments Board of Canada.