Alexander Graham Bell National Historic Site
The Alexander Graham Bell Museum and property were designated a national historic site in 1952.
Alexander Graham Bell National Historic Person's commemorative plaque: 559 Chebucto Street, Baddeck, Nova Scotia
Teacher, scientist and inventor, Bell devoted his life, with unusual success, to the benefit of mankind. Known chiefly as the inventor of the telephone, he also produced important inventions and discoveries in medecine, aeronautics, marine engineering, genetics and electrical science, and greatly advanced the methods and practices of teaching the deaf. Born in Scotland, citizen of the United Sates and longtime resident of Canada, Bell is himself a symbol of the international impact of his achievements. He died near here at his summer home, Beinn Bhreagh.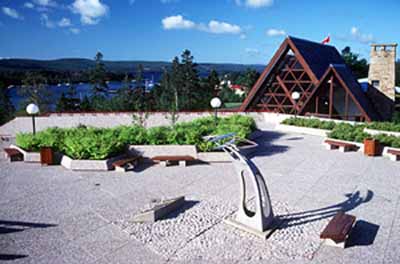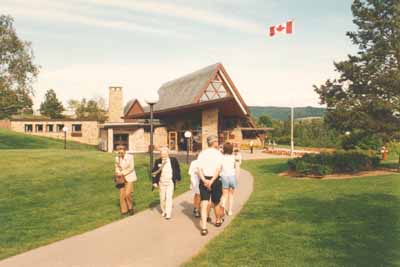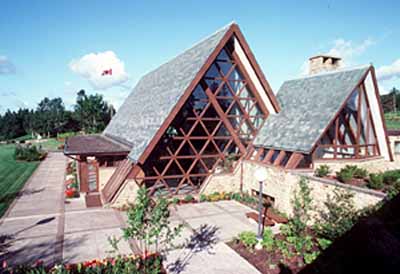 Description of historic place
Alexander Graham Bell National Historic Site consists of a 20th-century museum building containing Bell memorabilia, set on a 10 hectare property overlooking Baddeck Bay, part of Bras d'Or Lake, and Beinn Bhreagh, Alexander Graham Bell's summer home.
Heritage value
Alexander Graham Bell National Historic Site was established as a historic museum in 1954 to house Alexander Graham Bell memorabilia. The reason for national significance is that the memorabilia are associated with Alexander Graham Bell, teacher, scientist and inventor, a person of national historic significance.
The heritage value of this site resides in the associations of the artifacts with Alexander Graham Bell and in the site's proximity to Bell's summer home which he established in Baddeck, Nova Scotia in 1886 and occupied it for a regular part of every year until his death in 1922. There, he conducted scientific experiments in sound transmission, medicine, aeronautics, marine engineering and space-frame construction.
The HSMBC has also commemorated- Frederick Walker ''Casey'' Baldwin and Douglas McCurdy for their flight experiments in Baddeck in association with Bell.
Source: HSMBC Minutes, April 1952 and June 1977, Commemorative Integrity Statement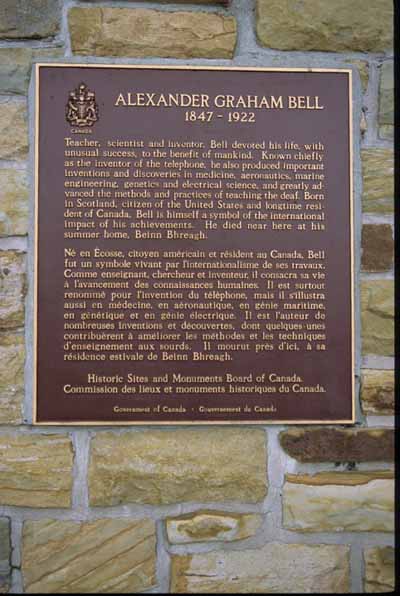 Character-defining elements
Bell memorabilia, including:
artifacts donated by the Bell family in 1955 from Kite House
the family's personal museum on the estate of A.G.Bell established in 1910 (including various items of furniture, clothing and photographs)
memorabilia donated to the Government of Canada by the Bell family (including items associated with Bell's scientific experiments in Baddeck such as the tetrahedral shelter, the original HD-4 hull, and a hydrofoil towing target as well as various awards and certificates)
memorabilia associated with Bell on permanent loan to the Government of Canada by members of the Bell family (largely honours received by Bell)
artifacts directly associated with Bell that have been donated by non-family members (unlisted)
the contents of Bell's library (1500 books and periodicals) donated by the Bell family in the 1970s
the setting of the museum in Baddeck Nova Scotia.
The National Program of Historical Commemoration relies on the participation of Canadians in the identification of places, events and persons of national historic significance. Any member of the public can nominate a topic for consideration by the Historic Sites and Monuments Board of Canada.