Big Tub and Little Tub dive sites
Fathom Five National Marine Park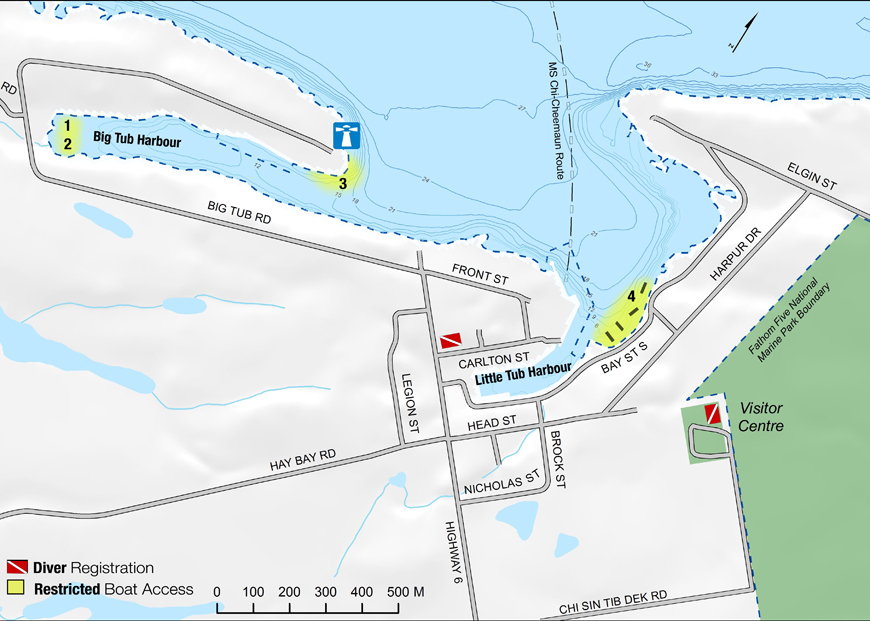 Except for the white, numbered areas shown on the map, diving is prohibited in the Tobermory harbours. Visitors are asked to respect the rights of private property and adjacent landowners.
Extreme care should be taken at all times, since considerable vessel traffic may be encountered. All divers must be within 30 metres or 100 feet of a displayed dive flag.
Tour boats do enter the Big Tub shipwreck area. Divers MUST follow the special operational policies for this site.
Controlled Access Schedule - Big Tub Harbour Shipwrecks
From the Friday of the May Victoria Day weekend to the Monday of the October Thanksgiving Day weekend, diver access to the wrecks in Big Tub Harbour will be operating on a scheduled basis. All divers and vessels must register prior to entering this area. Please contact the park for the most up-to-date information.
1. Sweepstakes - schooner
Built: Burlington, Ontario, 1867
Length: 36.3 metres (119 feet)
Depth: maximum depth 7 metres (20 feet)
This two-masted schooner was damaged off Cove Island and then towed to Big Tub Harbour where it sank in September 1885. The hull of the vessel is still intact with the windlass and a portion of the bow rail still in place. For both conservation and safety reasons, no penetration of the wreck is permitted. One of the most popular wrecks in the park, it is visited by divers, snorkelers and tour boat passengers.
2. City of Grand Rapids- steamer
Built: Grand Haven, Michigan, 1879
Length: 37.3 metres (122.5 feet)
Depth: maximum depth 5 metres (15 feet)
The City of Grand Rapids was an elegant passenger steamer until it burned and sank in October 1907. Its charred remains now lie in shallow water about 30 metres (100 feet) from the wreck of the Sweepstakes. Its rudder and propeller are displayed at the St. Edmunds Township Museum. This site is suitable for both divers and snorkellers.
3. Big Tub Lighthouse Point (Lighthouse was built in 1885)
Depth: maximum 23 metres (75 feet)
Limited parking - Access via brick walkway - washrooms available
Please respect the rights of adjacent private property owners.
Submergence of the Niagara Escarpment provides an interesting wall dive. Look for numerous crayfish in crevices in rock. For your safety, contain diving to the area inside the restricted boating markers.
4. The Tugs
Depth: maximum 13 metres (40 feet)
Wreckage of four small steam tugs. (Alice G, Robert K, John & Alex, unidentified)
Access via boardwalk or brick walkway to wooden deck area.
Washrooms and limited parking.
This is a good site for both divers and snorkellers. Popular site for open water check-outs and those wanting to observe divers in action. Site plan maps for this site are available at the Diver Registration Office. Divers are asked to contain diving activities to the area inside the restricted boating buoys.