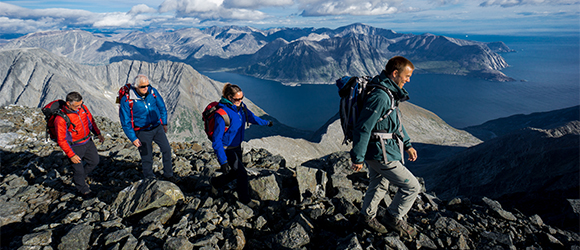 Why work for Parks Canada?
Top 10 reasons to work with us
Work in some of Canada's most iconic places.
Enjoy an incredible diversity of workplaces.
Feel like part of the solution.
Work for an organization that respects you.
Collaborate with a community of colleagues from all over our great country.
Be part of a world-renowned organization.
Join an organization that recognizes the importance of work-life balance.
Seize the opportunity to find your dream job.
Find a job that works for your schedule.
Create your own story!
Types of jobs
Parks Canada has jobs from coast, to coast, to coast. You may find yourself working at one of our:
national parks
national historic sites including national historic canals
national marine conservation areas
national urban park
our many administrative offices
You could be working in one of these jobs:
Protecting the integrity of our special places, and visitors and residents in and around them.
Avalanche Technicians
Archeologists
Canal Workers
Curators
Dispatchers
Environmental Assessment Specialists
Fire Crew Members
Planners
Resource Management Technicians and Officers
Ecosystem Scientists
Visitor Safety Technicians
Trail Crew
Equipment Operators
Developing and delivering programs that touch millions of visitors from around the world.
Cashiers
Heritage Presenters
Public Education and Outreach Officers
Interpreters
Lifeguards
Special Event Officers
Visitor Services Attendants
Cleaners
Providing support, advice, guidance and services in many fields.
Communication/Media
Contracting
Realty & Administrative Services
Social Scientists
Internal Auditors and Evaluators
Human Resources Advisors
Information Technology Services Specialists
Financial Officers
Maintenance Workers
Mechanics
Electricians
Welders
Carpenters
Information Management
Painters
Water & Wasterwater Operators
Plumbers
Project Delivery

Meet our people
Parks Canada offers many great advantages as an employer. If you want to know more, here are a few testimonials from real people who want to share their experiences with you:
Student testimonials
Summer jobs with Parks Canada engage students. They work with other professionals and participate in projects in their field of study. After a summer with Parks Canada, students leave enriched. They have learned a lot about their area of study, about the organization and they have had many unforgettable experiences. Here is what former students had to say.
I loved working for Parks Canada. It was the best summer job I could ask for. I got to call a beautiful national park home. I met students from all over Canada who loved the outdoors just like me. I got amazing experience organizing and executing a project in my field. And at the end of the day, I felt proud that I could say that I work for one of the few organizations that are making a positive difference in the world.
Here at Parks Canada working for the national design centre is a great opportunity for a student like me studying design. I assist in the production of many jobs that the design team is working on. This allows me to gain the knowledge and skills I need to be successful when I graduate! My experience so far with Parks Canada is great! The team is amazing and very talented.
I have been fortunate to have worked at the Sault Canal for two summers. During my time here I have learned new things about the history of the canal and the city of Sault Ste. Marie. This job allows me to grow my knowledge and interact with the community. The staff here has taught me the importance of good work ethic and the importance of small tasks. The skills I have gained through my employment with Parks Canada will transfer to any future job. I have thoroughly enjoyed my time here.
Working as a summer student for Parks Canada can only be described as an amazing experience. Throughout my two summers with Parks Canada I developed skills and knowledge essential in any workplace. Alongside friendly and courteous staff, I met and interacted with people of different nationalities and cultures, which really symbolizes the welcoming character of this country. One of the greatest experiences working for Parks Canada was having the opportunity to provide visitors with the history and culture of the canal. Thank you for this great experience!
2012 marked my third summer working for Parks Canada at the Sault Ste. Marie Canal. I primarily worked in the Visitor Centre, orienting visitors to the site, handling transactions in the Gift Shop, and provide overall administrative support. My position was also dynamic, allowing me to work on special projects, help colleagues with their assignments, or deliver heritage presentations. I worked with such positive, helpful, and hardworking people, and was fortunate to be given many opportunities to use and expand my skills. These valuable experiences will certainly prove useful for my future career. Thank you for all the amazing summers!