Geomorphology
Kluane National Park and Reserve
Kluane is dominated by mountains and ice, which make up 82% of the surface area. Vast icefields are found in the park, up to a kilometre deep. Rising in the mountains the braided upper reaches of the Alsek River lie nestled in a broad valley.
St. Elias Mountains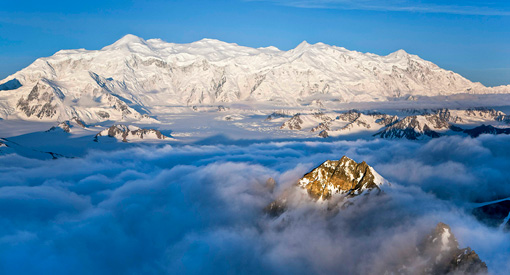 The St. Elias Mountains, Canada's highest and most massive mountains, have two ranges separated by a narrow trough, the Duke Depression. The Kluane Ranges, a chain of mountains averaging 2500m (8,000') in height, parallel the Haines Road and the Alaska Highway. Beyond these guardians of the interior, lie the rugged Icefield Ranges, whose peaks soar into the 5000m (16,000') range. The giants are: Mount Logan (5,959m, 19,545') the highest mountain in Canada and the second highest peak on the continent; Mount St. Elias (5,488m, 18,005'); Mount Lucania (5,231m, 17,162') among others.
St. Elias Icefields
Amid these ranges is a legacy of the last Ice Age - one of the world's largest non-polar icefields. Massive quantities of snow continue to accumulate as moist Pacific air moves over the St. Elias Mountains. Valley glaciers radiate from the icefields. Glacial movements are often immense and spectacular.
Alsek River
The Alsek River's sand dunes and glacial till create varied, contrasting environments. Downstream, rivers of ice flow into the Alsek's silt-laden waters, calving huge icebergs into the river before it leaves the Park on its journey to the Pacific Ocean on the Alaskan Panhandle.
The area through which the Alsek flows is home to populations of mammals and birds – some endangered – which make the areas that surround the Alsek River their home.