Sturgeon River plains bison herd
Prince Albert National Park
In 1969, approximately 50 plains bison from Elk Island National Park were released in the Thunder Hills region in central Saskatchewan. Ten to fifteen bison moved south and established a home range in the Sturgeon River area, in and around the boundary of Prince Albert National Park. These bison formed the Sturgeon River plains bison herd that exists today. The population grew steadily, and peaked between 2006 and 2008, reaching over 450 animals. Today, the herd is estimated at 120 animals - less than a quarter of the population in the 2000s.
The Sturgeon River herd is one of the few populations of free ranging plains bison that exists within its historic range in Canada. The herd is wild and subject to natural checks such as predation, disease and climate. Its unique wild status makes it an important conservational, cultural, social and economic resource regionally and nationally. Plains bison are an integral part of the ecosystem and culture, but are faced with a number of challenges in the modern world.
Like all plains bison conservation herds in Canada, the Sturgeon River herd is an island population and its genetic diversity is constrained. The bison's size and appetite draws them outside protected areas like the park and into agricultural fields, causing damage to fencing and feeding on favourite crops like alfalfa.
An anthrax outbreak in 2008 marked the start of the Sturgeon River herd population decline. That summer, 29 bison carcasses were discovered and an estimated 60 bison total were killed by the soil-borne disease. Since then, numbers continued to drop due to increased harvesting of bison outside protected areas. The number of animals taken and the frequent selection of breeding-aged females for harvest was not sustainable for the diminished herd. While subject to increased harvesting, the herd also continued to be exposed to disease, climate and predation.
Parks Canada is committed to the stewardship of the Sturgeon River herd, and is working with partners to reverse the declining trend and conserve the bison. Co-management strategies involve participation between Parks Canada, the Government of Saskatchewan, Sturgeon River Plains Bison Stewards, CPAWS, the Buffalo Guardians, Indigenous communities and neighbouring residents.
Harvesting rates are declining and the bison herd is starting to respond. There is an increased number of juveniles in the Sturgeon River herd, which is a promising sign of herd renewal. The selection of older or male bison for harvest and continuation of low overall harvest rates is critical to herd survival and recovery into the future. Bison co-management and research is taking place to help restore a healthy plains bison population that thrives on the landscape inside and outside Prince Albert National Park.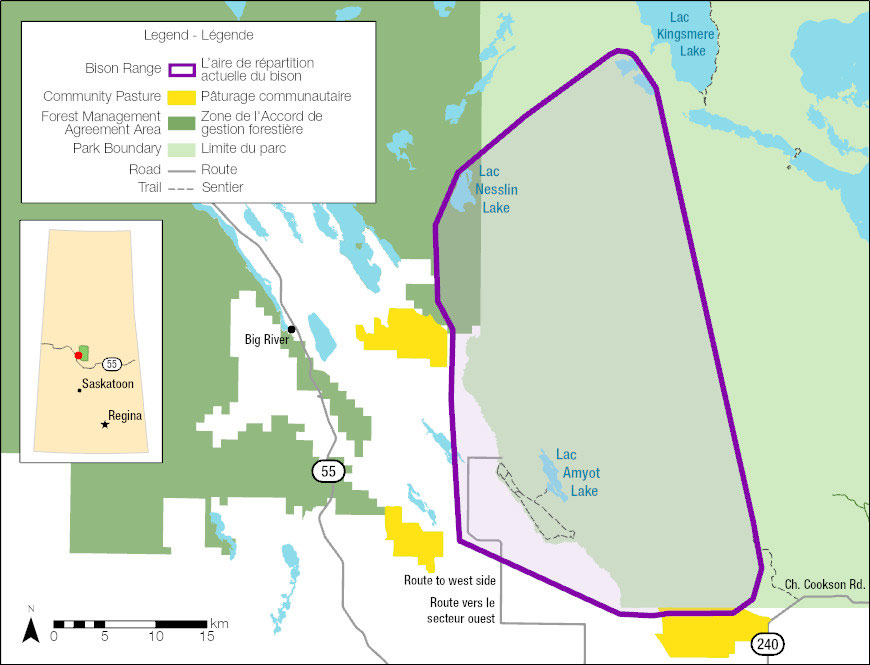 Map of the current range of the plains bison in the park and surrounding area.
Learn more about plains bison
Learn more about monitoring conducted throughout the year on the Sturgeon River plains bison herd
Management of the Sturgeon River plains bison herd is a shared responsibility.