Orchids
Bruce Peninsula National Park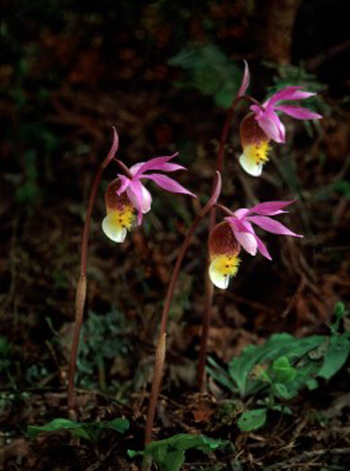 Calypso Orchid
Orchids are incredibly diverse. They are found everywhere on land, except glaciers. There are about 28,000 species on Earth. That is almost double the number of bird species and four times that of mammals. There are more than forty species of orchids on the Bruce Peninsula. Thirty four types have been found in Bruce Peninsula National Park and Fathom Five National Marine Park.
Orchids are very sensitive to their environment. This makes them especially vulnerable to climate change. Changes in rainfall patterns, average temperatures and the growing season means it will be more difficult for some orchids to survive in Bruce Peninsula National Park and Fathom Five National Marine Park. Other threats include invasive species and human exploitation.
Orchids are usually highly specialized and require precise growing conditions. They are nearly impossible to transplant.
It is illegal to pick or harvest any part of any plant in any national park. Violators will be prosecuted. Fines at Bruce Peninsula National Park and Fathom Five National Marine Park for such violations can be as much as $25,000.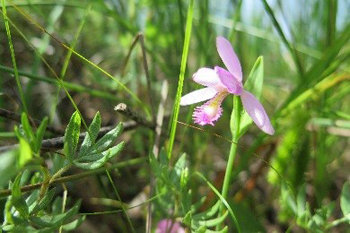 Rose Pogonia
At Bruce Peninsula National Park and Fathom Five National Marine Park orchids can be found in all land based ecosystems. The diversity and concentration of orchid species here is higher than any other place in Ontario. It is an ecological hotspot for orchids in North America.
Some orchids, such as the Calypso (Calypso bulbosa) have only a single flower per plant. Others, such as the Striped Coralroot (Corallorhiza striata) have many. Orchids have symmetrical flowers with highly modified petals. Flowers can come off the top of the stem, like the Rose Pogonia (Pogonia ophioglossoides), or they can come from the area where the leaves meet the stem, like the Tall Northern Green Orchid (Platanthera hyperborea). Orchids such as the Spotted Coralroot (Corallorhiza maculata) even lack chlorophyll and draw nutrients from soil fungi. Flowers can range from just a few millimetres, such as the White Adder's Mouth to the much larger Showy Lady's Slipper.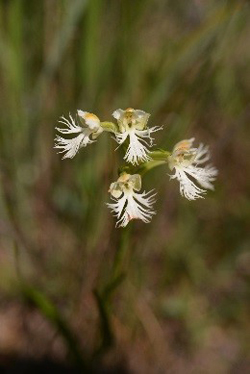 Eastern Prairie Fringed Orchid
The Eastern Prairie Fringed Orchid is endangered in Ontario. It is found along shallow cobble limestone shoreline in Bruce Peninsula National Park. Our scientists are monitoring this species regularly. During the last decade of monitoring we have observed between 50 to over 1000 Eastern Prairie Fringed Orchids (Plantathera leucophaea) in flower each year in the park.
Orchids aren't the only unusual plants on the Bruce. It is also home to about half the world's Dwarf Lake Iris (Iris lacustris), and most of Canada's remaining Tuberous Indian Plantain (Arnoglossum plantagineum). The peninsula supports more than 20 kinds of ferns, including the rare Purple-stem Cliffbreak (Pellaea atropurpurea) which Parks Canada monitors to help understand the status of globally rare alvar ecosystems.