Turtle crossing safety
Bruce Peninsula National Park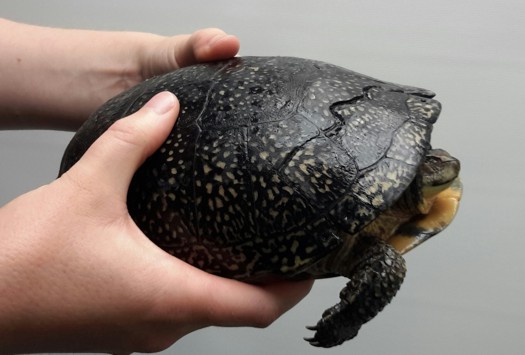 How to help a turtle cross the road
Pull over your vehicle where it is safe, using emergency lights. Watch for cars before crossing the road. Your safety is most important.
Grab a paddle, shovel, or other tool from your car to move the turtle (especially a snapping turtle).
If you don't have any useful items in your car, pick up the turtle like a sandwich, holding it close to the ground.
For snapping turtles, slide one hand past the turtle's tail underneath the turtle. Use your other hand to grip the back of the turtle's shell (so the turtle's head cannot reach your hands).

Credit: Ontario Turtle Conservation Centre

Never pick up a turtle by the tail - this is painful for the turtle, and can break its spine.
Move the turtle in the direction it was going, placing it a safe distance away from the road.
Report your sighting using the Ontario Reptile and Amphibian Atlas app.
If you see an injured turtle on the road, please call the Ontario Turtle Conservation Centre, at: 705-741-5000.