Volunteer opportunities
Kejimkujik National Park and National Historic Site
The Kejimkujik Southwest Nova stewardship team
The Kejimkujik Southwest Nova stewardship team is a group of organizations (including Parks Canada, Friends of Keji, Mersey Tobeatic Research Institute and Bird Canada) and individuals working to help species at risk and enhance environmental conservation in and around Kejimkujik National Park and National Historic Site and Kejimkujik Seaside.
Stewards help to
Volunteers work directly with researchers and staff on a range of projects to restore, protect, monitor and conserve the greater Kejimkujik ecosystem. As a volunteer, you will gain a deeper connection to this extraordinary natural environment. At the same time, you will play a very important role in helping to preserve and protect the animals and plants that depend on healthy habitats to survive.
Piping plover monitoring at Kejimkujik Seaside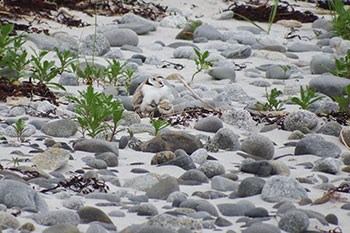 Walk the beach for Piping plover surveys at Kejimkujik Seaside. Help to monitor plover pairs as they create their nests and raise their young.
Months: Plover nesting surveys (May to August)
Blanding's turtle monitoring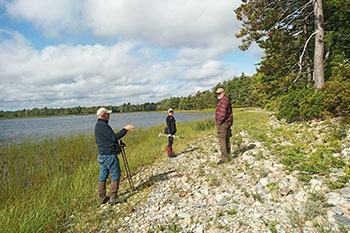 In June, volunteers can participate in Blanding's turtle nest monitoring at Kejimkujik, McGowan Lake and Pleasant River and protect turtle nests with enclosures. This reduces nest predation by raccoons and increases the number of young turtles in the population.
As volunteers become part of this project they can also assist with radio-tracking throughout the summer and hatchling emergence in the fall.
Months: June (turtle nesting), June to November (radio tracking), September to October (hatchling emergence)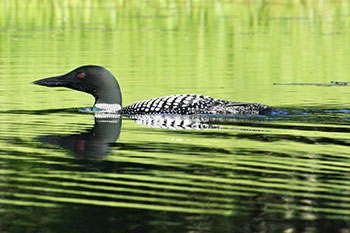 A classic! Volunteers paddle Kejimkuijik's lakes looking for loons and chicks on one day in spring and summer. A beautiful way to help monitor an iconic species.
For the Mersey LoonWatch program outside of Kejimkujik, volunteers monitor loons throughout the summer at a lake near their homes/cottages.
Kejimkuijik LoonWatch Dates:
May 28, 2023 (rain date: June 4, 2023)
August 20, 2023 (rain date: August 27, 2023)
More information: LoonWatch

Who should come? ANYONE who enjoys paddling on lakes and observing nature.

Am I qualified? Yes! It is not necessary to be an 'expert' on Common loon biology, but you must be interested in them and care about their plight. You must also be comfortable with paddling a canoe or kayak.

How do I sign up? Email benevolekeji-kejivolunteer@pc.gc.ca. We will ensure that you have a canoe partner if you are coming alone.

Teams of LoonWatchers will canoe an assigned lake to provide a simultaneous survey of loon presence and reproductive activity. Lakes are surveyed from 12 noon until 3 pm. LoonWatch observation forms will be collected at the Visitor Centre following the survey. A canoe and associated equipment must be supplied by the volunteers. There are opportunities to rent equipment from Jake's Landing canoe rental (902-682-2282).

What to bring?

Lunch
Binoculars
Pencil
Canoe or kayak with paddles, life jackets, and small craft safety gear
Bug repellant
Sun screen
Bird field guide (if you have one)
Camera (Send us some photos of YOU in action!)

Into the backcountry: Some LoonWatchers prefer to survey the more remote lakes in Kejimkujik. If you have a truck with suitable clearance, you may welcome a rare opportunity to drive to one of the lakes in the park's south end. Beware that roads are very rough there! For surveying our most remote lakes (Peskawa and Frozen Ocean), we accommodate one free night of camping on each lake on the night prior to LoonWatch. 'First come-first serve'! (Backcountry LoonWatchers must pre-register).

In case of inclement weather: High winds and/or extremely rainy days represent a safety hazard and can affect loon visibility. In case of inclement weather, LoonWatch will generally take place on the following Sunday.
Included with every fishing permit is an information package and Angler Diary. All you need to do is record when and where you fished, and the species and number of fish you catch. At the same time you can help us remove the invasive Chain pickerel from our waters. It's time to cast a line!
Months: April to August
Fishing – Brook trout creel census
Join our team of fly fishing volunteers and collect data on fishing success, fish size, age and health condition. Share your experience and knowledge with other passionate anglers like you! Fly fishing experience required. A workshop is provided in the spring to new volunteers.
Months: late April to June 30
Campground Hosts are friendly, outgoing individuals who share their vast experience and passion for Kejimkujik with other campers for 1-2 weeks through the camping season. Hosts help with special events and provide campers with warm welcomes and information on trails, programs and local services.
Months: mid-May to mid-October
See also: