Scenic drives
Kootenay National Park
See Kootenay National Park in a single day with a drive along the 94 kilometre Banff-Windermere Highway. Stop and snap some photos at one of the many scenic viewpoints, enjoy a river-side picnic, or get some fresh air on a short self-guided interpretive walk.
What to do | What to bring | General information | Guided audio tour
Safety | Trail Report | Warnings and Closures
---
What to do
It once took an entire day to drive from Banff to Radium Hot Springs in a Ford Model T. When the highway opened in 1923, one government publication praised the Banff-Windermere highway as an excellent road for drivers because, "fear was practically eliminated". Today, the trip from either Banff or Lake Louise can be made in just 90 minutes…but why rush when you can stop and smell the fireweed?
Kootenay guided audio tour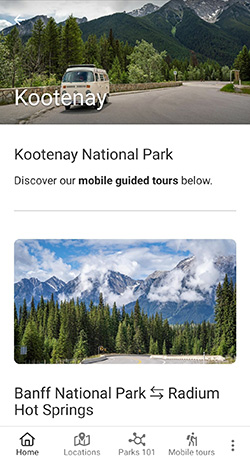 Download the Parks Canada app from the App Store or Google Play. Enjoy the new Kootenay guided audio tour as you travel one of BC's most scenic highways. Hear behind-the-scenes stories from Parks Canada staff and get insider tips on where to stop.
Remember to download the app before you go, there is no cell coverage in Kootenay National Park!
Pack a picnic lunch!
Enjoying Kootenay National Park can easily be a full day adventure. Bask in the sun and take a short walk from the Marble Canyon Day Use Area to one of several bridges where the Vermilion River has carved a path through the rock. Admire the turquoise blue colour of Kootenay River as it swiftly flows past the Kootenay River Day Use Area. Enjoy a leisurely stroll around a small green-coloured lake at the Olive Lake Day Use Area.
Popular picnic areas include:
Numa Falls
Vermilion Crossing
Dolly Varden
Kootenay River
Olive Lake
Valley View
Map:

Points of interest

(PDF, 137 Kb)
Scenic drive
Visitors have been exploring Kootenay National Park by car since 1923, when the Banff-Windermere Highway first opened. Today, the 94-kilometre drive through the park reconnects you with history as Highway 93 twists and turns through valleys and over two mountain passes.
Enjoy the park's sights and sounds on a self-guided scenic drive. There is so much to see along the way, you can't help but get out and stretch your legs! Check out our points of interest or choose from the itinerary below for places to visit along the way.
Stand on the Continental Divide—the point from which water flows to both the Pacific and Atlantic oceans. Stroll the 0.5 km Fireweed Trail and discover how fire renews forests.
Energetic? Hike the amazing trail of fire and ice on the 8.4 km journey to Stanley Glacier (3 hours return).
Admire the dramatic colours and sounds of Marble Canyon's deep carved chasms as this trail criss-crosses the narrow gorge and takes you into the heart of a recent wildfire. Relax in Kootenay National Park's new red chairs and snap a selfie to share with your friends and family.
Bask in the sun and linger at Numa Falls or Vermilion Crossing day use areas for a picnic lunch or snack break. Listen to the power of the Vermilion River as it flows towards the Pacific Ocean.
Keep your binoculars ready! Wildlife such as bears, deer, wolves and bighorn sheep can sometimes be spotted along the highway.
Enjoy breath-taking views of the Mitchell and Vermilion ranges from the Kootenay Valley Viewpoint.
Get a bird's eye view of Sinclair Cayon on the 6 km return hike along the Juniper / Sinclair trail.
Look up at the towering red cliffs of the Redwall Fault in Sinclair Canyon and don't forget to #sharethechair as you relax in the new red chairs located on the bench across from the Radium Hot Spring pools.
Get out your swimsuits, relax and enjoy a refreshing dip in the Radium Hot Springs pools before you check out the village of Radium Hot Springs or return to Banff.
Want to spend more time in the mountain parks? Tour the Golden Triangle and explore Kootenay, Yoho and Banff national parks.
What to bring
If you are planning to spend the day in Kootenay National Park, a picnic lunch is highly recommended! There are no restaurants in Kootenay National Park, however, Kootenay Park Lodge operates a small general store with snacks and drinks from mid-may until mid-October.
The Banff-Windermere Highway through Kootenay is one of the most scenic drives in BC. Please drive the speed limit of 90 km / hour. Don't forget your camera and binoculars. You never know when you might see wildlife or want to take a photo.