Eagle Islet restoration
Gulf Islands National Park Reserve
Overview | Garry Oak Islet | Sea garden restoration | Salmon stream |Coastal sands |Volunteer
A photo story
Unhealthy Garry Oak islet
In 2008, restoration work began on Eagle Islet, in Sidney Lagoon. Introduced European fallow deer and Canada geese had grazed and trampled the little islet down to bare dirt.
Learn more:Garry Oak Ecosystems
Deer keep out!
First, a fence was installed around the entire islet, to keep out the hyper-abundant fallow deer from nearby Sidney Island.
Just the facts
To track changes over time, staff monitor permanent vegetation sampling plots. They also take photos in the same places every year.
Healthy Garry Oak islet
With the fence keeping out the deer, native wildflowers burst into spring colour, including camas, chocolate lily and western buttercup.
Unfortunate side effect
Exotic invasive plants have also made a come-back. To keep them in check, park staff remove Scotch broom, bull thistle, sow thistle, burr chervil and Himalayan blackberry.
Healthy and whole
Lessons learned in the ongoing restoration of Eagle Islet help us to protect other threatened Garry oak islets in the park, such as Brackman Island where thirteen rare plant species have been identified.
Weaving together Indigenous knowledge with western science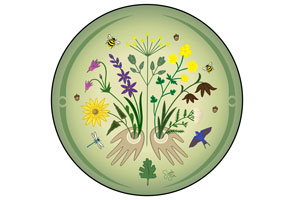 Image right: By Sarah Jim, ḰȽO,EL,ENEȻ icon (kw-lh-aw-ull-uh-nook/Garry Oak ecosystems).
Through the Growing Together Conservation and Restoration (CoRe) project, Parks Canada collaborates with Coast Salish First Nations to restore the Garry Oak ecosystems in Gulf Islands National Park Reserve. We are thankful to the Quw'utsun and W̱SÁNEĆ Nations for sharing their knowledge of the land and water.
In 2021, W̱SÁNEĆ artist Sarah Jim designed the ḰȽO,EL,ENEȻ icon (kw-lh-aw-ull-uh-nook/Garry Oak ecosystems) to represent the work of the Growing Together project.
Artist statement by Sarah Jim:
The collaborative work between the W̱SÁNEĆ and Parks Canada has inspired this design. It represents the restoration and conservation of species at risk within the ḰȽO,EL,ENEȻ (kw-lh-aw-ull-uh-nook/Garry Oak ecosystems). Deltoid Balsamroot, Shooting Star, ḰȽO,EL(kw-lhaw-el/Camas), KEXMIN (kuxh-meen/Wild Celery), Western Buttercup, Chocolate Lily, ṮELIḰ,EȽĆ (tluh-lee-ewkw-uh-lh-ch/Common Yarrow), and ĆEṈ,ÁȽĆ (chung-ay-lh-ch/Garry Oak) are culturally significant plants to the W̱SÁNEĆ because they not only provide food and medicine to the people, but to all of our pollinator and animal relatives within this ecosystem. The Barn Swallow, ŦEM,ŦEM,X̱IYOS (thum-thum-hwee-yoss/dragonfly) and Western Bumblebee are all creatures that rely on this habitat for food, nesting, and refuge. The dragonfly has compound eyes which gives them many perspectives. That is the approach of this project; weaving together the different perspectives provided by Indigenous science and traditional knowledge and Western science.
These plants are being honoured and held up by the two hands below them. Holding hands up is also an ancient gesture of thank you. These plants are being recognized for their important role in this specialized ecosystem. The hands are also a symbol of the human intervention of the conservation and restoration that is taking place and the growing relationship between the W̱SÁNEĆ and Parks Canada.
Each plant and animal are adorned with Coast Salish elements. This signifies their importance to the W̱SÁNEĆ and establishes a sense of place; these beings belong in their ancestral homelands, the ÁLEṈ,ENEȻ (ay-lung-uh-nook, homelands, ecosystem). All aspects of the land have shaped W̱SÁNEĆ language, art, culture, and worldview. Not only are ecosystems being restored, W̱SÁNEĆ culture is being revitalized and relationships between the first people and settlers are beginning to grow.
Learn more: Garry Oak Ecosystems Recovery Team