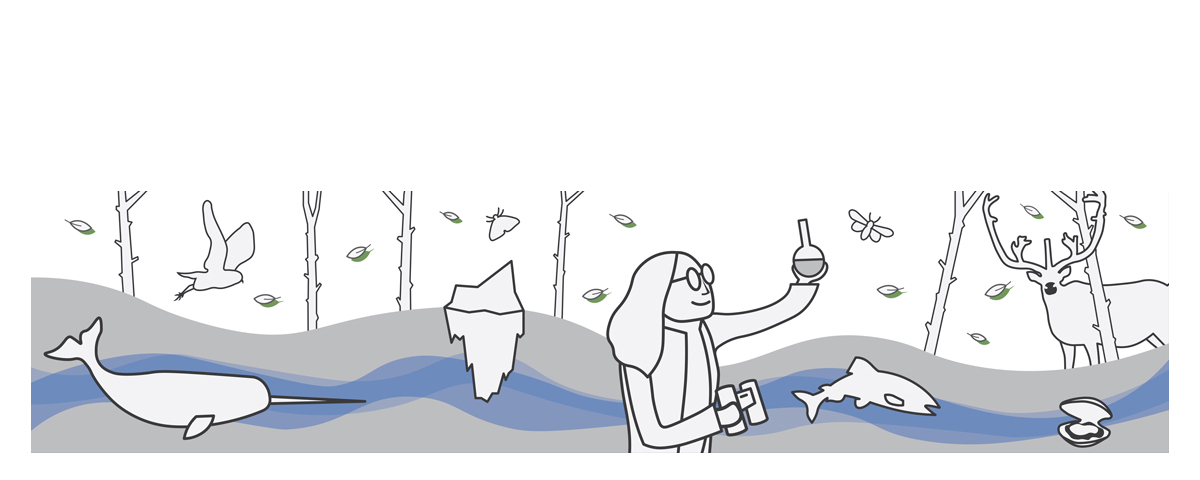 Let Parks Canada take you behind the scenes! Watch videos to learn about some of the projects that are helping to protect and restore these treasured places.
Featured video: A herd of zebras in Banff National Park

Transcript

If you drove by and saw a herd of zebras running around in Banff National Park, you would think that was very bizarre.




This video features an interview with Bill Hunt, Resource Conservation Manager at Banff National Park, interspersed with historic shots of fishing in the park, underwater shots of trouts and images of Parks Canada staff electro-fishing.

Aquatic ecosystems in Banff are one of the most impaired system in Banff National Park.

We've put a lot of effort and a lot of focus on our terrestrial ecosystems but one of the things that we are still struggling with is the presence of this non-native fish.

Many years ago and early in Banff's history, there was actually a fish hatchery here in Banff and at that time the thinking was that it was a good idea

to enhance visitor experience by stocking many of the high alpine lakes and rivers with fish.

Unfortunately back in those days we didn't understand the effects of non-native species on natural ecosystems;

rainbow trout and brook trout were largely stocked and aren't native to this area and so they have a whole domino effect on the healthy ecosystem.

And then we've been going around systematically in prioritizing areas where we need to remove non-native fish, where they're compromising pure fish which in this case is westslope cutthroat trout.

So westslope cutthroat trout are a native trout species that are actually threatened in Canada.

There's only ten places in Banff National Park where you can find the westslope cutthroat trout in their native waters where they're still genetically pure.

What happens is the rainbow trout that we're putting on top of these fish, they both are spring spawners and they're both closely related

and you end up with a hybridized fish that doesn't have all the same attributes genetic attributes and behavioural attributes of a pure westslope cutthroat.

And so we need to go in and remove those non-native rainbows so we can restore pure westslope cutthroat.

And that was what the rainbow lake and the upper cascade project was all about.

We had a very healthy lake called Sawback Lake that has westslope cutthroat in it and right next to it, above it,

was a lake that was originally barren and years ago people had put rainbow trout in the lake so they were filtering down in the stream and potentially affecting the genetic integrity in Sawback.

And so we had a three to four year project to go in and remove all those non-native rainbow trout and then we actually were able to go in and electrofish the stream below

and we marked each fish in the stream, we were able to take a little clip, test the DNA of those fish, and then we came back the next 2 summers and re-captured and removed the hybrids.

So it's very hard to tell a hybrid fish from a pure fish by just looking at them, you have to do genetic work to understand that.

And so between restoring the lake and restoring the stream, we've actually been able to secure Sawback Lake for future generations as a pure population of westslope cutthroat.

And that lake is now feeding pure cutthroat down into the entire upper cascade drainage.

Featured video: Have you ever heard a beluga sing?

Transcript

Have you ever heard a beluga sing?




In this video, Nadia Ménard, an ecologist at Saguenay-St. Lawrence Marine Park, gives an interview. There a a few shots scattered throughout where we see images of the Saguenay-St. Lawrence marin park and beluga whales.

The Saguenay-St. Lawrence Marine Park was established in 1998. Now the catalyst was to favour the recovery of the endangered beluga whale population.

In my work as a marine ecologist I had the opportunity to work throughout the marine park but in one specific area called Baie-Sainte-Marguerite which is in the Saguenay Fjord.

This area is mostly known for its importance for beluga whales, namely females with their calfs, because they're the future of the population.

It's the area, in the summer range of the population, where the waters are the warmest.

So we think it might be a good area also for calving but also to feed their young because the beluga calves depend on the females for milk, they're a marine mammal.

All this is happening underwater. Baie-Sainte-Marguerite is not only an area where we've done work on what types of pods are in the area, the food that's available, but it's an area where we want to enhance the protection.

On a more personal note, I've had the opportunity to visit Baie-Sainte-Marguerite many time with my children.

We bring along a picnic on the beach and watch the sun setting over the Saguenay Fjord and sometimes we have the chance to hear the beluga singing while we're having dinner.

These are unforgettable memories, probably some of my best wildlife viewing events that I've ever had.

Featured video: Phenological miscue demystified

Transcript

In nature, timing is very important. So what phenological miscues are is that when the sequence of events in nature come out of sync.




Title: Parks Insider

So for example in Tuktuk Nogait National Park we're starting to see phenological miscue between the migration of caribou

and the timing of plant growth.




Animation showing the location of Tuktut Nogait National Park

Just in the past 15 or 20 years, there's been a significant increase in the rate at which plants green up so spring is happening earlier.

So a concern we have there is that when caribou migrate North, they want to reach and area at the time

when the plants are available and at their nutritional height.




Animation showing showing caribou eating flowers and new growth.

They like to be there when the new plant growth are just growing, the flowers are on the plants, all the shoots, the new growth,

those provide the highest energy and nutritional value for caribou.

The higher the calories and the nutrition they can find, the more successful they are at giving birth and the more success the calves have at growing up.

So one of the things we're finding is those plants are greening up sooner and we're worried that by the time the caribou get into the park,

plants may no longer be in flower, some of the new shoots and new growth are perhaps becoming too coarse or too woody




Animation showing showing a sad baby cariboo in a field without flowers

for the caribou to digest and gain the nutritional value they need from those plants.

So the plants are growing more vigorously so you'd think "more plants, bigger plants, that's a good thing right?"

but the concern has to do with the timing of the growth and how well the caribou's timing of the migration syncs up with the timing of the plant growth




Animation showing a cariboo looking at a calendar

so they can maximise what's there on the land and continue having success in terms of calving and giving birth.

Featured video: How a canoe trip changed my life

Transcript

Elizabeth Nelson appears on screen in front of a white background.

I don't know how I convinced my parents to let me spend all of my university money

On a 49-day canoe trip in the Northwest Territories

But I did!

TITLE: PARKS INSIDER

It meant having to spend every cent of money that we had saved up until then for my university education. That meant no money for my first year. No money for residence. No money for books. No money for tuition. And I bargained a bit with my parents, trying to convince them. I'm going to learn so much about the world. I'm going to grow as a person. It's going to change my life. And in the end it was absolutely true. It completely changed my life. That trip was the first time that I saw Arctic tundra. It was the first time I saw caribou.


Various photos of her canoe trip appear on screen

Not just one caribou, but hundreds of caribou.

It was the first time that I pushed myself to get through every day.

It was the first time I went without fruit and vegetables for over four weeks.

Because you get them at the beginning... then you just run out of them.

I think seeing the beautiful simplicity of Arctic tundra,

then looking closer and realizing how complex it really was,

made me realize how challenging and difficult a career in ecology would be.

Before leaving for that trip, I had been very much on an engineering track.

I was taking three different courses in math.

I was convinced I was going to become the next robotics engineer.

It hadn't occurred to me you could reach that same

depth of knowledge out on the land,

as you could trying to figure out a really complicated physics problem.

One of the incredible things about Arctic tundra

is that it's such a beautiful landscape,

but fundamentally, there are only maybe ten species that you are looking at.

Those ten species have to interact with one another

in incredibly complex and co-dependent ways.

One of those species being impacted by climate change,

or being lost due to some sort of human development,

will throw all of the other nine completely out of whack.

That trip made me realize how much I loved, not just being outside,

but also understanding outside.

Learning about nature. Studying nature.

Understanding how things connect on the ground.

On day 49, when we got to Kugluktuk,

the first thing I did was call my parents and thank them for letting me go on that trip.

That trip changed my life. It changed my career.

And I'm so grateful that I had that opportunity

to go up North and see those spaces for myself.
---
Parks Insider: science and conservation at Parks Canada
Managing wildfires, helping turtle hatchlings, recovering endangered salmon, monitoring ecosystems—it's all part of a day's work at Parks Canada. Discover more behind-the-scenes stories about science and conservation.
---