Wood camps
S.S. Klondike National Historic Site
Most Yukon River sternwheel steamers burned wood. While there was coal in the Yukon it was not widely distributed and hence not readily available. Wood on the other hand was plentiful, and at least in the early days, available along the length of the river. An important industry employing large numbers of men was created along the river to service the steamers.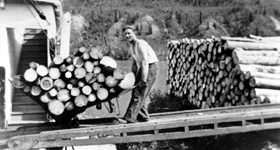 There were wood camps located every fifty to one hundred miles between Whitehorse and Dawson City. Wood lot operators would contract with British Yukon Navigation Co. to provide anywhere from 300 to 2000 cords of wood each season.
The S.S. Klondike would typically make one or two wood stops on the downstream trip to Dawson City. On the upstream return trip to Whitehorse she would make anywhere from five to seven wood stops, consuming about one cord of wood per hour. A steamer, depending upon its size, consumed approximately 120 cords of 4 foot (1.2 m) wood every trip from Whitehorse to Dawson City.