Bear safety
Chilkoot Trail National Historic Site
The Chilkoot Trail is located in both black and grizzly bear habitat. Bears have an acute sense of smell and are attracted to human food, garbage, and other items with strong odours. Bears who obtain human food/garbage quickly develop a taste for it, and can become bothersome and dangerous as they become increasingly habituated to humans.
Respect all wildlife on the trail and remember that this is their home!
---
Parks Canada recommends carrying bear spray with you at all times on the trail.
You may carry bear spray on the Chilkoot Trail as long as it is clearly labelled for use on animals and the package weight/volume does not exceed 500 gr/500 ml. Any product intended for protection against people (mace, tear gas, etc.) is not legal in Canada.
It is not permissible to carry bear spray on a commercial airline, even in your checked baggage.
To help contribute to a positive co-existence of bears and hikers on the trail, ensure you are properly storing all your attractants.
On the trail
During the day when taking breaks, always keep your backpacks within arms reach. Never leave a backpack unattended.
In camp
Immediately upon arrival in camp stow all bear attractants in the bear-resistant storage lockers before selecting your campsite and setting up camp. Attractants include: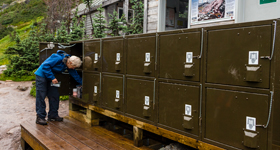 Food (including pet food), food waste and beverages
Garbage, including leftovers and food packaging
Dishes, utensils, pots and pans
Fuel and stove
Toiletries or other scented items or products such as dish soap, wash cloths, sun screen, insect repellant, medications, etc.
Attractants must be stored in the lockers at all times when not in use. Avoid having any attractants near tent sites.
Cooking and eating
Avoid smelly foods (use dried or prepackaged food instead).
Plan meals carefully to reduce leftovers.
Cook and eat only at designated eating areas (shelters or picnic tables) not at tent sites.
Clean your dishes at the grey-water disposal pits. Strain food leftovers (a strainer is provided), clean food waste off the screen and store it with your garbage.
Take all garbage/food waste with you when you leave
Travel restrictions and area closures
Bear activity can result in travel restrictions and /or area closures. Check IMPORTANT BULLETINS.