Trail Hazards
Chilkoot Trail National Historic Site
Be prepared, take your time... ...enjoy your experience.
Problems often occur when ill prepared, rushing, not paying attention to terrain or conditions or when pushing on in the dark. Ensure that you have a realistic hiking itinerary and that you are properly equipped. Take adequate rest breaks and watch for signs of exhaustion, hypothermia and dehydration amongst your party members. Be prepared to turn back if you encounter extreme weather or members of your group have problems.
Day trips to Chilkoot Pass | Travel conditions | Route finding | Snowfields | Avalanche hazard | Creek crossing | Hypothermia | Injuries and evacuations
---
Day trips to Chilkoot Pass
If you are planning a day trip to Chilkoot Pass, you must be self-sufficient and adequately equipped to deal with hazards and conditions. Bring what you need with you. This can be a long, difficult hike. Remember, you cannot camp at Chilkoot Pass, so need to plan your day with your return hike to Happy Camp (or other campground) in mind.
The trail between Happy camp and Chilkoot Pass is not marked and requires you to have sufficient route finding skills. Snow may persist at higher elevations throughout the entire season, in addition to avalanche risk which can be present into mid July.
Please note that the American side of the Chilkoot Trail is closed for the entire 2023 hiking season due to significant flood damage. As a result, you are not permitted to cross into the U.S. portion of the Chilkoot Trail from Canada. It is illegal to enter the United States without the proper border crossing documentation.
Travel conditions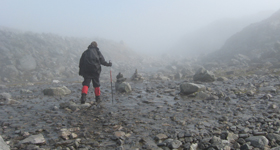 Mountain weather is highly unpredictable. It can change quickly and/or vary greatly from one location to another. The section between Deep Lake and Chilkoot Pass is above treeline and frequently experiences severe weather conditions. You should expect wet, cold, windy and/or whiteout conditions; severe rain or snow storms are possible even in the middle of summer.
Trail conditions change continuously. The trail surface can be rough with deep mud, standing water, unstable boulders, slick rocks and roots making footing difficult. Trekking poles can be helpful. Please stay on the designated trail to help us prevent trail braiding and to protect cultural resources. Braided trails result in unnecessary erosion, soil compaction, and trampling of delicate vegetation and/or artifacts. Rain, fog, and snow often result in low visibility, and are common and can persist at high elevation throughout the entire season.
Route finding skills required
The portion of the hike between Happy Camp and Chilkoot Pass is a route, not a trail. The route can be under snow into July (and sometimes for the entire season at Chilkoot Pass) and is not marked, often making travel difficult. Coupled with low visibility, route finding and navigation skills are required.
Snowfields
Snowfields between Happy Camp and Chilkoot Pass persist throughout the summer months. On a sunny day these can be blinding; on an overcast day slick and icy. As the season progresses, the snowfields form snow/ice bridges over streams and between rocks which can collapse suddenly, and without warning.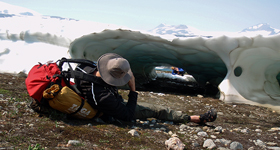 Watch for snow/ice bridges and detour around rocks showing through the snow cover as the snow surrounding these rocks will often not support your weight. As the snowfields melt out it is difficult to predict the precise location of the trail under the snow cover. Do not blindly follow the footprints in the snow in front of you in the event that they take you off-route. Watch for the point at which the snowfields meet with the snow-free trail, and walk in these locations. Use your own judgement while hiking over snowfields as hazards are many and can persist into August.
Avalanche hazard
An avalanche hazard exists between Happy Camp and Chilkoot Pass until mid-July. Generally, the snow pack is more stable in the early morning hours. If you are hiking to Chilkoot Pass travel early in the day. Avoid crossing avalanche areas in the afternoon.
Do not stop or rest in the areas marked by avalanche signs. Parties should hike through avalanche zones in single file, well spaced apart, and travel as quickly as is reasonable.
Chilkoot Pass avalanche terrain
Canadian side

Printable Version (PDF, 653 KB)

Spring-summer

This portion of the Chilkoot Trail is affected by avalanches until mid-July.

Reduce your exposure in avalanche terrain:

Travel early in the day;
Rest at Chilkoot Pass, then
Travel quickly and avoid stopping in avalanche zones.

During the Gold Rush, in December 1897, five people were killed when an avalanche covered their tent with ten metres of snow.

The Stone Crib avalanche path is the most hazardous area during the hiking season. An avalanche occured here in July 1987.
Creek crossing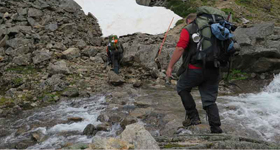 It may be necessary to cross some swollen creeks and streams. Don't cross barefoot. Face upstream while crossing. Use a sturdy stick or trekking poles for support. Take your time and if necessary hook arms with another hiker for better balance through water crossings.
Hypothermia
The Chilkoot's often cold, wet and windy conditions can lead to potentially fatal hypothermia. Hypothermia occurs when your body is losing more heat than it can produce and retain, which results in a drop in core body temperature. Advancing signs include stumbling, disorientation, lack of control with hands and feet, and drowsiness. Prevent hypothermia by staying warm and dry, eating well, and drinking plenty of water. Wool and synthetic clothing are best as they still provide some insulation when wet. Avoid cotton clothing. Carry extra clothing, good rain gear, and a warm hat.
Injuries and evacuations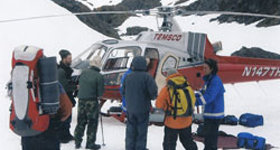 Helicopter assisted evacuations occur each year. If you have an accident while hiking on the Chilkoot Trail, you may be expected to pay for search and rescue and /or medical services.
Make sure you have adequate insurance coverage.
If you are seriously injured and unable to continue hiking, get another hiker to assist you in getting a message to Parks Canada's 24-hour emergency dispatch. Give the name, exact location, time and description of the accident and related injuries, whether first aid is being administered and if possible any related medical problems. Injured hikers should not be abandoned to wait for assistance on their own.
Parks Canada 24 hour emergency dispatch
1-780-852-3100
Have this number with you.
There is no cell phone coverage along the Chilkoot Trail. Satellite phones are the recommended form of communication. Other satellite GPS messenger devices, such as SPOT® or inReach®, are also effective. Satellite phone coverage can be adversely affected by vegetation and topography in some locations.