Waterway history
Chambly Canal National Historic Site
The history of the Richelieu Valley clearly illustrates the importance of the river as a means of communication and commercial trading. Navigable along most of its length, the river had long been a main route for Amerindian bands living by hunting, fishing and food-gathering.
The strategic importance of this waterway for possible invasions and as a route into the interior was apparent from the earliest beginnings of French settlement. To ensure control of this territory and the river, the French built a series of fortifications along the Richelieu. Chambly Fort and the Saint-Jean Fort are important relics from this era.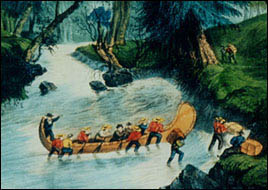 To overcome the rapids at Saint-Jean and Chambly, which could only be crossed with laborious portaging, people started to envision a maritime link bypassing these obstacles.
They would have to wait until the 19th century for the building of a navigable waterway to be authorized, linking Lake Champlain and the Chambly basin. Although the government of Lower Canada gave permission for the building of this waterway in 1818, various problems arose and work did not begin until 1831. It was completed in 1843 when the full length of the Chambly Canal was opened.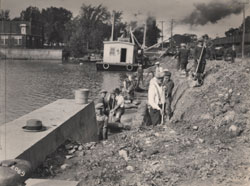 © National Archives of Canada / PA-085845
The canal played an increasingly important commercial role until the early 20th century. During this period, Canadian-American trade on the Richelieu was at its peak. The First World War and the economic crisis of 1929 marked the beginning of the decline of commercial navigation on the Chambly Canal. Commercial navigation ceased almost completely in the 1970s and was gradually replaced by pleasure boating. Barges made way for yachts, sailboats and pontoons.
At the same time, the canal was developed for recreational use and its banks were landscaped. Visitors now have access to the locks, bridges and lockmasters' houses, which have retained their authentic feel and help make the Chambly Canal an outstanding historic site.