Partners
HMCS Haida National Historic Site
Local Partners
By working in collaboration with respected organisations that share our values, Parks Canada is able to better deliver its promise to Canadians by continuing to be a world leader in the protection and presentation of Canada's natural and cultural heritage. We believe in sharing leadership and working with our partners to offer unique, inspiring opportunities for Canadians to discover our treasured places and to achieve extraordinary results.
We are proud to be formally collaborating with the following partners: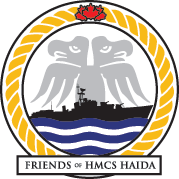 The Friends of HMCS Haida are dedicated to preserving, promoting, and protecting the legacy of Canada's most experienced and honoured warship, her crews, and her significance as a National Historic Site. The Friends of HMCS Haida support Parks Canada by providing invaluable volunteers to enhance the visitor experience with Canada's fightingest ship!

Mohawk College is a post-secondary institution that educates and prepares highly skilled graduates for success and contribution to community, Canada, and the world. Mohawk also offers programs to assist newcomers to Canada with improving their language skills for community involvement, academic development, and career advancement in Canada. Working in collaboration with Parks Canada, Mohawk College provides volunteer Language Ambassadors for "Language Days" events at HMCS Haida National Historic Site. The Language Ambassadors help to promote the events and offer translation services to visitors speaking the some of the most common non-English and French languages in Hamilton and area.