A Legacy for All
Saint Croix Island International Historic Site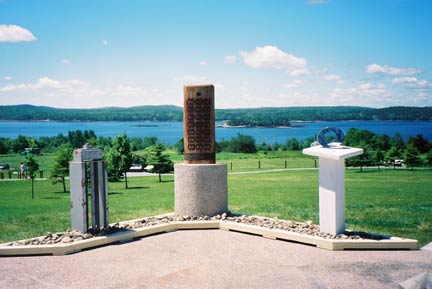 On June 26, 2004, during the 400th international commemorative events held at Saint Croix Island International Historic Site, the Governments of Canada, New Brunswick and France, in partnership with Parks Canada, unveiled a legacy to commemorate the theme: "Acadie: First Dialogues, the Meeting of Two Worlds".
Four internationally renowned artists worked together to create a triptych; a sculpture in three panels side by side. Their work commemorates and celebrates the legacy of the French and Aboriginal Peoples to Canada by recognizing the important role they played in the founding of Acadie and Canada and reflects the meeting between two worlds.
Lance Belanger
"Wuli ta has wugnul" by Lance Belanger a Wolastoqiyik and his Art Associate Kitty Mykka means "good thoughts of the past" and reflects the friendly interaction between the Aboriginal and the French in the 1600's, which developed into an active partnership. Their sculpture acts as a beacon between the two cultures and represents aspects of friendship, migration and transportation as well as trade. The "toric" shape is an emergence of two relevant forms; the bottom portion of a canoe paddle which represents the Aboriginal Peoples in Eastern Canada and the second is the shape of the French ship's structure as seen from an overhead perspective.
Roméo Savoie
Acadian artist Roméo Savoie's work "Sans titre" is a marriage between his artistic and architecture backgrounds. The work depicts a residence on a column, which pays tribute to the first Europeans who established themselves on Saint Croix Island and who faced a hard winter. The artist used this symbol to emphasize the presence of these first Europeans, the establishment and the deep-roots they have grown on this land.
Jean-Charles Pigeau
"Le point du jour" by Jean-Charles Pigeau from France means "the dawn of the day" and honours the land where the sun rises. It commemorates the first day where the two worlds met and establishes a connection between nature and the sun. It encourages us to access our own emotions in relation to nature and it links the history with the culture of the country at the point of meeting with the other.