0 km – 0,5 km
The Ottawa locks are located in a valley, called 'Entrance Valley', about 2 km from where the natural course of the Rideau River flows over a high cliff to meet the Ottawa River. Rising 24 m, the massive Ottawa locks demonstrate the innovative design and construction techniques developed to meet the challenges of the terrain. The lockstation has a long and narrow configuration, approximately 100 m wide between the sides of the valley walls and 500 m from the Ottawa River to the present-day Plaza Bridge, which is its southern boundary.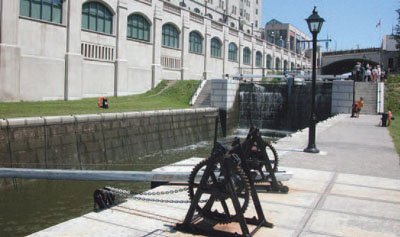 © Parks Canada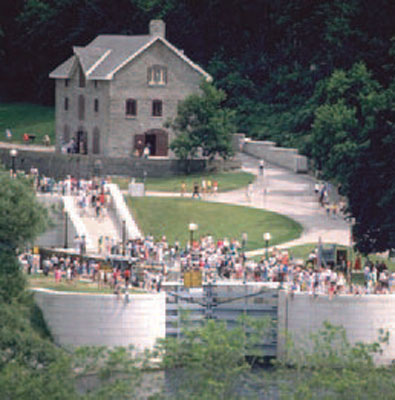 © Parks Canada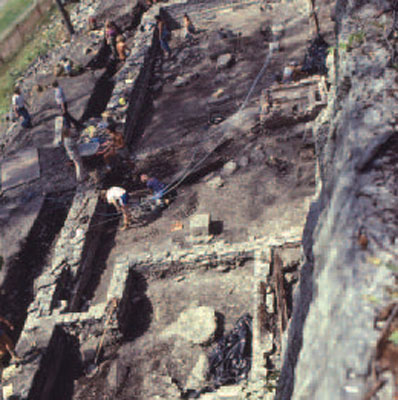 © Parks Canada
Cultural Resources
Eight locks - Manually operated locks in flight with a total lift of 24 m. Locks 6 – 8, 1830. CRM1.
Locks 1 – 5, reconstructed in 1988.
Commissariat building - A two-storey stone building, built as a storehouse for the headquarters of the canal,
1826. CRM1.
Lockstation office - A one-storey stone building, 1884. CRM2.
Archaeological features – Stabilized remains of the Royal Engineers' building, 1827. CRM1.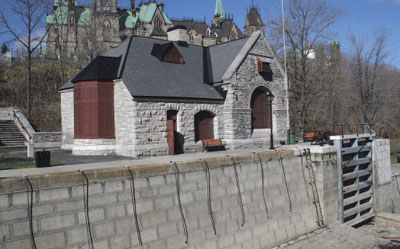 © Parks Canada
Ottawa Lockstation to Hartwells Lockstation
0,5 km – 6,7 km
Connecting Ottawa and Hartwells lockstations is a 6,4-km excavated channel of varying width; it is the longest excavated channel along the entire Rideau Canal. The channel is flanked on both sides by masonry or concrete walls, and railings. Before reaching Hartwells Lockstation, the channel passes through Dows Lake. Originally a swamp, this artificial lake was created through the construction of two earth embankment dams to contain its waters.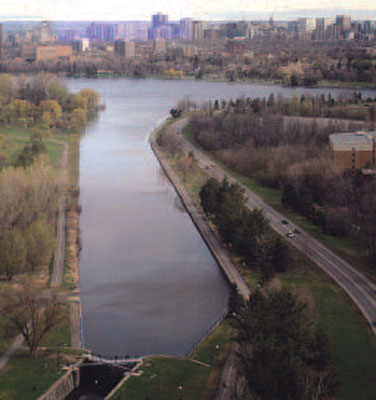 © Parks Canada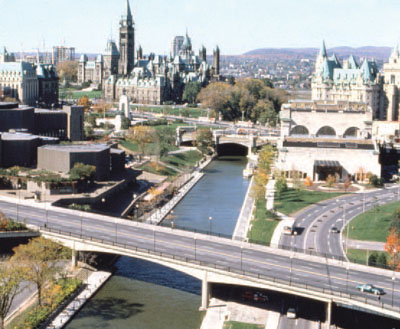 © Parks Canada