E. Pauline Johnson National Historic Person (1861-1913)
E. Pauline Johnson was designated a national historic person in May 1945.
Historical importance: Mohawk poet, gave series of speaking tours (1892-1910).
Commemorative plaque: Highway 54, Chiefswood National Historic Site of Canada, Six Nations Grand River Reserve, Ontario
Born here at Chiefswood, the daughter of a Mohawk chief, E. Pauline Johnson gained international fame for her romantic writings on Indian themes, but she also wrote about nature, religion and Canadian nationalism. Beginning in the 1890s, she published numerous poems, essays and short stories and recited them in theatrical fashion on public stages throughout Canada and abroad. Reaching a wide audience, she succeeded in making the public more aware of the colourful history and cultural diversity of Canadian Indians. Her ashes were buried in Stanley Park, Vancouver.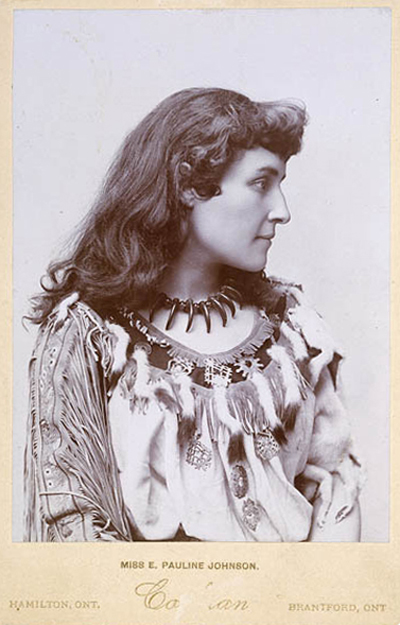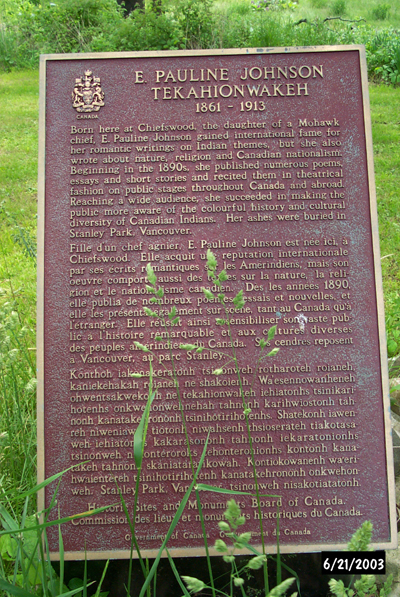 The National Program of Historical Commemoration relies on the participation of Canadians in the identification of places, events and persons of national historic significance. Any member of the public can nominate a topic for consideration by the Historic Sites and Monuments Board of Canada.