Reader Rock Garden National Historic Site
Reader Rock Garden was designated a national historic site in 2018.
Commemorative plaque: 325 25 Avenue Southeast, Calgary Footnote 1
William R. Reader, Calgary's influential Parks Superintendent from 1913 to 1942, laid out this Arts and Crafts-style alpine rockery, which he maintained for decades. Built into a steep hillside near the Union, Chinese, and Burnsland Cemeteries, its rock paths, steps, and walls formed numerous planting beds. They tested and showcased the possibilities of gardening in Calgary, challenging assumptions that the southern Alberta climate was too hostile for agriculture and horticulture. Admired for its beauty and botanical diversity, this garden has long been a source of inspiration for professional and amateur gardeners.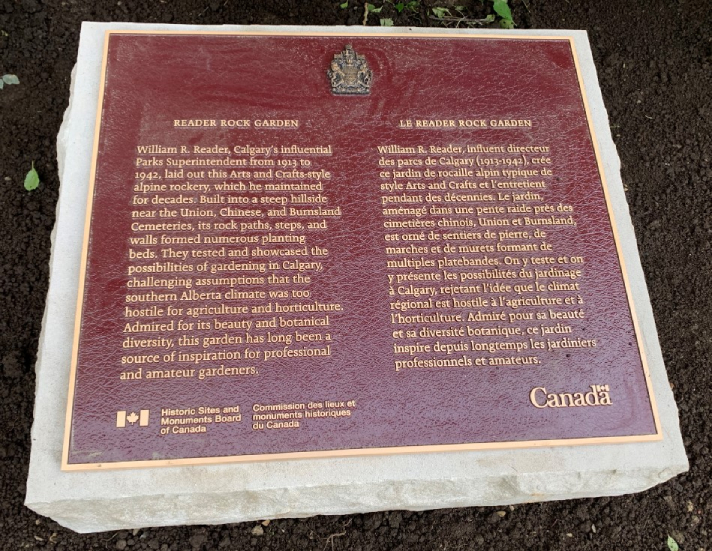 Description of historic place
Reader Rock Garden, located on what was once the grounds of the city-owned home of Calgary's Parks Superintendent William Roland Reader, is built into a steep hillside south of downtown Calgary, near the Union, Chinese, and Burnsland Cemeteries. In designing the garden, Reader drew from British gardening influences popular in the late 19th and early 20th centuries, and adapted them to the dramatically different environment of the Canadian prairies. The garden consists of a matrix of rock paths, steps, and walls that form numerous planting beds divided into sections containing thousands of native and non-native plant specimens. Like other rockeries, it features naturalism, informality, hardy plant species, and small recreations of alpine settings. It was long regarded as one of the most beautiful and successful gardens in western Canada.

Heritage value
Its founder, William Roland Reader (1875-1943), was one of a small number of municipal parks superintendents in Canada who significantly shaped their cities through professional skill and knowledge, personal energy, and dedication. Taking inspiration from the City Beautiful movement, which linked civic beauty with social progress, as well as city planner Thomas Mawson's garden-city plan for Calgary, Reader worked tirelessly to advance the City Beautiful principles he believed would draw settlers to the region. Throughout the city, the Calgary Parks department planted species Reader had cultivated in his garden and propagated in the nurseries he oversaw. The garden supported horticultural work in the larger urban parks system, including within the adjacent cemeteries.
Undaunted by desert-like conditions, chinook winds, and extremes of temperature, Reader created a significant garden in an environment believed to be hostile to agricultural endeavour. Reader's garden became a place to determine the hardiness of various species of flowers, shrubs, and trees and their suitability for growing in the streets and parks of Calgary. From its inception, it was an experimental farm, a place of education, and an elaboration of the type of testing Reader was already conducting in the civic nurseries and greenhouses at the base of his property. Reader encouraged the general public to visit his garden, and many did so, taking inspiration from its variety and constant change. After Reader's death in 1943, the city of Calgary took over the garden as a public park. In 2004, the city began an extensive rehabilitation of the Reader Rock Garden, working from Reader's notebooks to replant species he had worked with, unearthing and supplementing cobble gutters, and carefully reconstructing period garden furniture.
The National Program of Historical Commemoration relies on the participation of Canadians in the identification of places, events and persons of national historic significance. Any member of the public can nominate a topic for consideration by the Historic Sites and Monuments Board of Canada.