Roger Gaudry Building National Historic Site
Backgrounder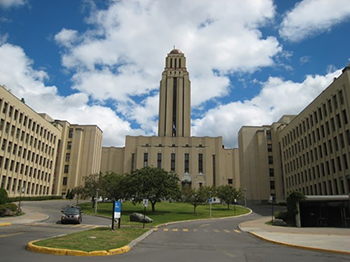 Located at the heart of the Université de Montréal campus, the Roger Gaudry Building is a prominent Montréal landmark. Built between 1928 and 1943, it was designed by architect and engineer Ernest Cormier. Its grand scale and functional layout, which was originally designed to include laboratories and a teaching hospital, reflects French Canada's new appreciation of scientific disciplines and research during the interwar period and it speaks to the emergence of a dynamic Francophone academic and scientific elite committed to higher education.
This large sprawling structure has an imposing 82 metre high central tower. In its design, it combines the symmetrical and hierarchical layout of the French Beaux-Arts tradition with features more typical of 20th century architectural modernity, such as a concrete frame, sparse masonry facades, and stylized geometrical motifs. The monumental scale, quality finishes, and attention to colour, lighting, and texture of the principal ceremonial spaces – specifically the Hall of Honour and the main amphitheatre – offer a rare and remarkable sequence of Art Deco-inspired interiors.
The building was designed to encompass all the university's faculties and schools, as well as a university hospital. It followed an innovative layout for the time, referred to as a "compact plan." This complex layout was designed according to a symmetrical and highly hierarchical concept, reflecting a profound attachment to the Beaux-Arts tradition. The building has a long main axis, dominated by the 22-storey tower, from which radiate in mirror-image fashion horizontal wings and vertical outliers. The west end of the building is dominated by a gable topped by a small bell tower, while the east end has a small tiered tower, marking the location of superimposed amphitheatres. The treatment of the central tower and exterior facades is marked by strong vertical lines and the presence of jutting and set-back elements and by a few stylized geometrical motifs, attesting to the influence of aesthetic ideas associated with modernity, among them Art Deco.
The Roger Gaudry Building was the first building to be constructed by the Université de Montréal after it gained its autonomy from Laval University in 1920. The new institution grew spectacularly during the 1920s with the establishment of a science faculty and a school of social, economic, and political sciences. Today, the Roger Gaudry Building is surrounded on all sides by numerous university buildings erected over the years to meet the demands of the institution's growth. This first building, however, put its stamp on the campus around it, and remains the most imposing element therein. Its commanding presence on the mountain speaks to Quebec's dynamic academic life in the interwar years.
The National Program of Historical Commemoration relies on the participation of Canadians in the identification of places, events and persons of national historic significance. Any member of the public can nominate a topic for consideration by the Historic Sites and Monuments Board of Canada.