Central Memorial Library and Park National Historic Site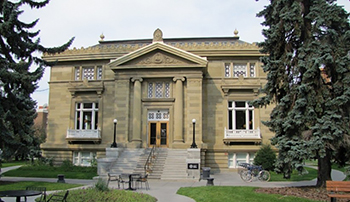 Central Memorial Library and Park, located just south of Calgary's downtown, opened to the public in 1912 and reflect official efforts to create an attractive and cultured new city in the west. The library is a handsome, classically-inspired building with a massive portico and grand staircase. It is one of the largest and most imposing of the 125 Carnegie libraries built across Canada. Designed as a unit, the library and its surrounding park have formed a social, cultural, educational, and memorial centre for Calgarians for more than a century. Developed during Calgary's first major economic and population boom at the turn of the 20th century, they illustrate the confidence and optimism of the young city of Calgary.
The library was the project of a group of civic-minded, local women led by Annie Davidson, recognized now as one of the city's cultural pioneers. This group had advocated for the establishment of a free public library in Calgary for years, arguing that it would help turn the booming western town into a mature city. The library was funded in partnership with American businessman and philanthropist Andrew Carnegie. A great believer in the importance of free public libraries to communities, in the late 19th and early 20th century Carnegie donated over $56 million to help build libraries worldwide. Of this amount, $2.5 million funded 125 libraries in Canada, including three in Alberta.
Like many Carnegie libraries, the design of Calgary Memorial Library is classically-inspired with its grand columned entrance, rich and ornamental exterior elements, and elegant interior. Upon opening, it quickly proved popular with Calgarians from all walks of life. As the headquarters for educational associations and various clubs, it became a cultural and educational hub, even housing the city's first art show. It served as the main library from 1912 until 1963, when it became a branch library and housed the archives and research centre for the Glenbow Museum. It now serves as a branch library and is home to the Muttart Art Gallery.
The park surrounding the library is a formally designed landscape which includes a strictly symmetrical layout with elaborately designed beds, paths, lawns, specimen planting, two decorative water fountains, and numerous monuments and war memorials. It has evolved as a place of remembrance with its significant collection of memorials and well-attended Remembrance Day ceremonies.
The National Program of Historical Commemoration relies on the participation of Canadians in the identification of places, events and persons of national historic significance. Any member of the public can nominate a topic for consideration by the Historic Sites and Monuments Board of Canada.