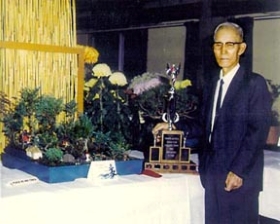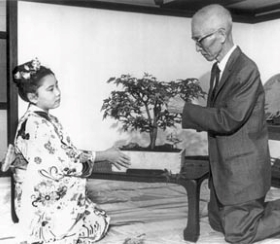 For the Week of Monday, May 9, 2022.
On May 15, 1884, landscape designer and gardener Kensuke Takata, who helped introduce the art of bonsai to Canada, was born in the Mukai Nada district in Hiroshima City, Japan, the fourth of six children.
In 1904, Kensuke followed his brother Hayato (Harry) Takata to Canada. He first settled in Rivers Inlet, north of Vancouver Island, British Columbia, where he found employment as a commercial fisher and, during the off-season, worked as a tallyman at a sawmill.
In 1905, Harry Takata worked with Yoshijiro (Joe) Kishida to build a new garden within the recently established Esquimalt Gorge Park, in partnership with the British Columbia Electric Railway Co. The result was the first Japanese Tea Garden in Canada, opened in 1907. It soon captured the attention of Jennie Butchart, who soon commissioned Harry Takata and Joe Kishida to build a Japanese garden in a former cement quarry. With the help of Joe's father, Isaburo Kishida, a landscape designer who also worked on the Esquimalt Gorge Park, the project later evolved into Butchart Gardens.
After Joe Kishida sold his interest to Kensuke Takata in 1923, the brothers became duel owners of the Japanese Tea Gardens at Esquimalt Gorge Park. They attracted thousands of visitors by offering opportunities to experience traditional Japanese tea culture and explore its three summer houses, a ball game house, dining room, and dance hall. During this time, Kensuke Takata began cultivating miniature trees in small pots, according to the ancient Japanese practice of bonsai. He imported plants from Japan, which he cultivated for several years before displaying them on three shelves at the tea garden, beginning in the late 1920s.
The Japanese attack on Pearl Harbour in 1941 triggered a resurgence of longstanding anti-Asian sentiment and paranoid fears that Japanese Canadians might support the enemy attacks on the Pacific Coast. On April 22, 1942, Kensuke Takata, along with more than 8,000 other Japanese Canadians living in Victoria were forced to leave their homes and communities for Hastings Park in Vancouver. In their absence, local residents looted and destroyed the Japanese Tea Garden at Esquimalt. The federal government ordered the removal of all Canadians of Japanese descent from the West Coast and into designated protected areas. In total, more than 90 percent of the 23,000 Japanese Canadians were uprooted, restricted in their movements, and had their homes, businesses, and other property sold, without their consent.
After the war, the Takata family reunited in Toronto, Ontario. Not giving up on his passion for bonsai, Kensuke acquired some of his original seedlings from friends in Victoria and resumed practicing the art. In the early 1950s, Canadian soldiers who spent time in Japan during the Korean War fostered new and growing interest in bonsai. In response, the Toronto Japanese Garden Club asked Kensuke for a demonstration. This helped inspire the formation of the Toronto Bonsai Society, which still operates today.
Butchart Gardens is a designated national historic site. The Historic Sites and Monuments Board of Canada (HSMBC) advises the Government of Canada on the commemoration of National Historic Sites, which can include a wide range of historic places such as gardens, cemeteries, complexes of buildings and cultural landscapes.
The National Program of Historical Commemoration relies on the participation of Canadians in the identification of places, events and persons of national historic significance. Any member of the public can nominate a topic for consideration by the Historic Sites and Monuments Board of Canada. Learn how to participate in this process.