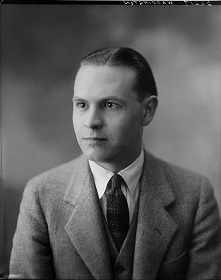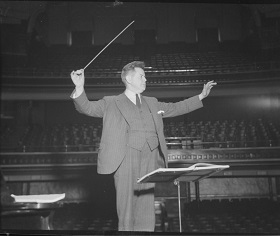 For the week of Monday, September 27, 2021.
On September 29, 1952, the Canadian Broadcasting Corporation (CBC) Symphony Orchestra performed Rossini's La Cenerentola and Sibelius' Symphony No. 3 for a national radio audience. Conducted by CBC Music Director Geoffrey Waddington, this was the first in a series of radio concerts that continued for more than a decade.
Growing numbers of Canadians were turning to the CBC for news and entertainment in the mid 20th century. The expansion of its radio networks in the 1930s and the 1940s made it increasingly possible for Canadians living outside major urban centres to hear a wide variety of musical performances from across Canada and around the world. Unlike the privately owned radio stations, the CBC made a special effort to promote Canadian and international music on programs designed to both inform and entertain, such as A Layman's History of Music.
To bring the experience of a live musical performance directly into the living rooms of radio listeners, several CBC stations assembled orchestras of their own, which were closely associated with the local arts scenes in their respective cities. Building on these examples, the CBC formed an orchestra in Toronto—the main production centre for national English-language radio programming. Nearly half of the musicians were members of the Toronto Symphony Orchestra (TSO), including Ettore Mazzoleni, Paul Scherman, and Heinz Unger.
The CBC Symphony Orchestra became widely renowned for its performances of contemporary and Canadian works, featuring a wide range of musical instruments, and performed on the radio and in concert for live audiences. These included performances at Massey Hall in Toronto and the Stratford Festival in 1955, and at the United Nations Headquarters in New York City in 1961 under the direction of composer Sir Ernest MacMillan. The CBC Symphony Orchestra gave its final performance in 1964 at the University of Toronto. It subsequently disbanded, following a disagreement over the limited recruitment of TSO musicians.
Massey Hall is a designated national historic site. The Historic Sites and Monuments Board of Canada (HSMBC) advises the Government of Canada on the commemoration of national historic sites, which can include a wide range of historic places such as gardens, complexes of buildings, and cultural landscapes.
The National Program of Historical Commemoration relies on the participation of Canadians in the identification of places, persons and events of national historic significance. Any member of the public can submit a subject to the Historic Sites and Monuments Board of Canada. Learn how to participate in this process.