Visitor guidelines
Saguenay–St. Lawrence Marine Park
Whale-watching cruises and kayak companies, as well as individual boaters and kayakers are responsible for confirming with health authorities whether they are able to operate their boats, and under what conditions they can do so.
Things to know before you arrive
What to bring?
To ensure your visit is pleasant and comfortable, we recommend bringing warm clothes, a windbreaker, comfortable shoes and sunscreen or a hat to protect you from the sun. Even on a warm summer's day, the sea breeze can be chilly. Furthermore, going out on the water can be cold throughout the season, even if it is warm on land. We also recommend bringing snacks or a picnic. You will certainly want to have your camera and binoculars with you, too.
Transportation
If you intend to take the Tadoussac–Baie-Sainte-Catherine ferry, keep in mind that it is free of charge and operates day and night. From September to May, crossings take place every 20 minutes during the day and hourly overnight. From May to September, daytime departures are every 15 minutes. During the high season—from mid-July to late August—you may have to wait over an hour at peak times. But you can still whale-watch while waiting in line. Keep your eyes peeled!
For the ferry timetable, go to: Tadoussac–Baie-Sainte-Catherine Ferry.
Regulations
Developed in partnership with the marine tour companies, the Marine Activities in the Saguenay–St. Lawrence Marine Park Regulations provide a framework for the activities practiced in the Marine Park. The Regulations indicate the maximum navigation speeds permitted throughout the park, as well as the distances and speeds to be respected when marine mammal are present (see image). All watercraft in the Marine Park must comply with these regulations.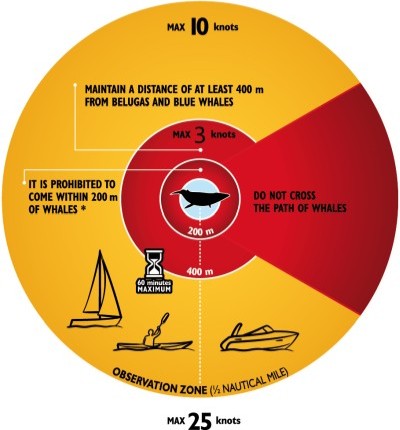 Boat captains and sea-kayaking guides of organizations with marine tour permis must pass the Parks Canada regulation evaluation.
For more information on your specific activity and the Regulations see the following page: Regulations.