Use of Inuit traditional knowledge (Qauijimajatuqangit)
Inuit Qauijimajatuqangit (Khao-yee-muh-yah-tut-khanggeet) or IQ, also referred to as Inuit traditional knowledge, is a source of information based on historical and/or current observations by Inuit which has been passed on orally over several lifetimes.
A large portion of IQ is tied to harvesting and the environment, but it is also directly linked to local socio-economics and cultural practices of Inuit.

"We are always trying to protect wildlife and environment. Trying to balance modern ways of living and our past. [It is] very important to protect Tallurutiup Tariunga because of this area being very important to large numbers of marine mammals, but also shorebirds and polar bears. We need to protect them for future generations."
The incorporation of IQ is a fundamental premise of the Canada National Marine Conservation Areas Act, the Nunavut Wildlife Act and the Nunavut Land Claim Agreement. IQ and contemporary science are information bases that complement each other. IQ can be used alongside scientific knowledge to get a more complete understanding of the use and value of an area.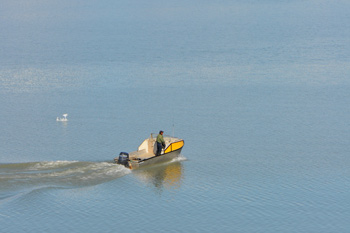 Using IQ alongside scientific knowledge:
helps identify community values and sense of connection to place
provides relevant current and historical data that is not readily available to scientists (baseline data)
allows for community members to be involved in decision-making through the use of IQ
empowers community-based monitoring to identify parts of the ecosystem that are stressed or undergoing change
In the feasibility assessment for the national marine conservation area in Tallurutiup Imanga, IQ was fundamental in understanding and illustrating the Inuit perspective of the region, leading to a more ecologically and socially holistic boundary recommendation. IQ will continue to inform the management of Tallurutiup Imanga National Marine Conservation Area.