Parks Canada public service renewal results, 2017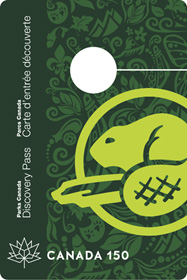 For the past four years, Parks Canada has been working to develop innovative solutions to operational challenges, to increase professional development opportunities, to develop effective strategies to promote better work–life balance, and to implement transformation initiatives at the Agency.
Innovation is the focus of daily discussions at Parks Canada, both through our mission and mandate and through all the projects that are implemented to contribute to our rich natural and cultural heritage, for all Canadians. Our teams must continuously demonstrate creativity in order to foster public understanding, appreciation and enjoyment of our historic places in ways that ensure their ecological and commemorative integrity for present and future generations.
The year 2017 was a memorable one for Parks Canada. With Canada's 150th anniversary, the entire Parks Canada team came together to welcome a record number of visitors, who came from all over the world to celebrate our country. We marked the event in an unforgettable way, by offering free admission to all of our national parks, national historic sites and national marine conservation areas for the entire year. The whole world responded––over 8 million Parks Canada Discovery Passes were distributed in Canada and nearly 200 other countries. We innovated a lot this year and sparked the collaboration and mobilization of Parks Canada members. We relied on our workforce, a real asset to Parks Canada, and on all Canadians.
Although Parks Canada was very busy getting ready for the biggest annual celebration in its history, the Agency nevertheless explored new ways of working, new tools and new approaches in order to actively participate in the public service renewal. That renewal is aimed at creating an improved public service that enables its employees to be at the right place, in the right position; that has effective and efficient processes, tools and structures; and that fosters a healthy work environment.
By taking on our important role as storytellers recounting the history of the people and places that have shaped Canada, this document tells the stories of innovation that defined Parks Canada in 2017 and that helped to make its members more aware of the importance of adopting a culture of innovation in their work.
Canada 150
In honour of the national celebrations, various Parks Canada teams were present at numerous events across Canada. We also prepared our national parks, national historic sites and national marine conservation areas to receive more visitors. Moreover, we offered more learning opportunities to Canadians in the form of learn-to-camp activities, in addition to strengthening our partnerships with Aboriginal peoples.
Celebrating Canada 150th Anniversary
In early 2016, the Government of Canada announced four themes for the Canada 150 celebrations: Diversity and Inclusion, Opportunities for Youth, National Reconciliation and Healthy Environment. Parks Canada immediately set out to bring these themes to life in innovative ways.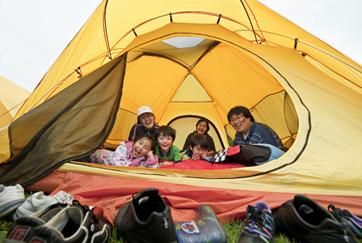 Perhaps the most inclusive element of Canada 150 celebrations was free admission to all Parks Canada places, including free lockage along historic canals, for the entire year of 2017.
Visitors arriving at Parks Canada places were greeted with a sense of celebration, as every place was decorated with Canada 150 banners, flags, posters and even a Canada 150 pin on every uniform. To ensure that all Canadians, including new visitors, felt comfortable in Parks Canada places, the Learn-to-Camp program was expanded almost 20-fold from 3,500 participants in 2016 to more than 70,000 participants in 2017. These two initiatives were supported by expanded urban outreach activities, bringing Parks Canada's message to Canada's diverse urban populations, and by media and social media campaigns that spanned the globe.
Parks Canada Presence from Coast to Coast to Coast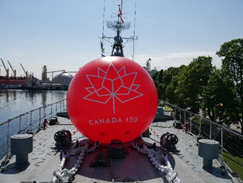 Parks Canada, in partnership with Canadian Heritage, supported the delivery of Government of Canada programs at our places from coast to coast to coast. Seventeen of the Canada 150 Signature Projects, including the Tall Ships Regatta, ParticipACTION, Explore 150, Sesqui and LandMarks2017, were hosted at Parks Canada places. Many of the two million visitors to the Tall Ships also encountered Parks Canada's innovative Home Port Heroes program, which tells the stories of Second World War merchant ships built in Canada that were named after Parks Canada places, thus commemorating the merchant navy, Canadian industry and women in the workforce. LandMarks, a large-scale contemporary fine art program was a global first, involving professional artists and curators and art students at 16 universities, all engaged in art that addressed how people relate to nature and to each other, with extensive Indigenous participation and with a strong focus on Indigenous perspectives and knowledge. In addition, Parks Canada celebrated the Centennial of National Historic Sites with décor, special events and the first annual Canada Historic Places Day on July 8.
2017 was also a year to focus on Indigenous programming at Parks Canada places. Working in partnership with Indigenous peoples in all parts of the country, 34 new Indigenous experiences were launched, creating new opportunities for Indigenous peoples to tell their own stories in their own ways.
Nature-lovers felt even more at home with Parks Canada in 2017 as the Agency staged 27 BioBlitz species-counting events across the country, resulting in deeper connections with nature and increased scientific knowledge. The Agency's Canada 150 year was crowned by the announcement for boundaries for a massive new national marine conservation area in Tallurutiup Imanga (Lancaster Sound) and the opening of discussions with the Province of British Columbia on a possible new national park in the South Okanagan.
Over 27.4 million visitors will have experienced Canada's natural and cultural heritage in 2017, representing a 10% increase over previous years. Parks Canada team members were there to welcome visitors, offer exceptional visitor experiences while ensuring the protection and conservation of Canada's natural and cultural heritage for generations to come. We are proud to say that Parks Canada has met our visitors' expectations and has surpassed our visitor satisfaction rate. 2017 was a resounding success!
Anticipating a high visitation year in 2017, Parks Canada's social media channels (Facebook, Instragram, Twitter) aimed to influence visitor behaviour in 2017 by promoting Parks Canada's "hidden gems" (less visited or lesser known places) and encouraging visitors to plan ahead with timely trip planning information. A high level of engagement was solicited through targeted campaigns such as #ShowUsYourPass - where followers were encouraged to post a selfie with their free 2017 Discovery Pass, and the #ParksChallenge - where followers were challenged to complete a specific activity and post a photo of their accomplishment. In 12 short months, from September 2016 to September 2017, Parks Canada followers on social media increased by 60%. Canada 150 social media campaigns reach over 20 million people through retweets and shares. Through social media accounts, Parks Canada team members were able to directly engage and influence followers who were either planning their trip, or already enjoying a visit to a Parks Canada place. The high level of engagement on social media channels encouraged followers to share their experiences and opinions, both positive and negative, allowing conversations about these experiences to take place. New audiences, such as urban Canadians, new Canadians and Millennials were targeted in an effort to ensure heritage places are known and enjoyed by more and more Canadians and to build stewards of these places for the future.
Engagement is a key component of Parks Canada's social media strategy. By actively helping followers navigate their trip planning process, promoting less-frequented locations, and encouraging followers to share their experiences, Parks Canada's social media accounts effectively influenced behaviour and managed visitor expectations while creating a positive virtual space for our social media audiences.
National Office Support to the Field
In anticipation of record visitation in the context of Canada 150 celebrations and free admission, it was a high priority that the Agency develop mechanisms to ensure that our operational field units (teams that manage our heritage places) were equipped to deal with any gaps or vacancies in staff complement that may occur during the operational season. One way of addressing this need for additional capacity was by establishing a pool of National Office staff available to participate in a short term deployment in our field units. Field unit managers were able to connect with individuals who self-identified as available for an assignment and use this list to address any upcoming vacancies, gaps due to annual leave, and times of additional pressure. The program was a great success and proved to be mutually beneficial, as it helped field units address pressures by pulling from outside their immediate team, often bringing in another perspective, while at the same time providing National Office staff with an increased awareness of field realities. Throughout this process, approximately 60 staff were able to be deployed across the country. The program allowed team members from across the Agency to create new connections and develop a deeper understanding of what our colleagues do on a day-to-day basis.
Indigenous tourism, experience and story-telling at Parks Canada places
No relationship is more important to the Government of Canada than the relationship with Canada's Indigenous Peoples. Parks Canada works in many ways to support reconciliation efforts with over 300 Indigenous communities across Canada. In 2016, the Indigenous Tourism, Experience and Story-Telling at Parks Canada Places initiative was launched to build capacity for collaborative interpretative product development and place-based tourism marketing of Indigenous Tourism experiences.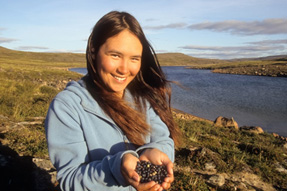 The project has stimulated interest among both Indigenous partners and Parks Canada employees as over 50 project proposals were submitted in 2017 ̶ more than double the project proposals in 2016. This modest source of funds, under $1 million, has resulted in new and enthusiastic conversations with Indigenous partners on potential projects. Furthermore, it has resulted in the planning and delivery of projects such as new Indigenous visitor experience opportunities, which are now a regular part of the service offering, special Indigenous events, and even Indigenous guardian programs. For example, funds have been leveraged to build capacity for product development and marketing through a formal relationship with the Indigenous Tourism Association of Canada. New equipment has been purchased to sustain the 'Beach Keepers' program at Pacific Rim National Park Reserve. Interpretive and celebratory programs such as the Annisnaabe Jilimaan interpretive canoe experience at the Bruce Peninsula National Park, the International Indigenous Peoples Celebration at Forillon National Park, and the co-creation of a dedicated Indigenous Interpretation space in a period building at the Fortress of Louisbourg National Historic Site have all been supported in a short time though this program. This is only the beginning!
These successes reveal that interest is peaked for both Parks Canada team members and local Indigenous partners to continue working together to create economic opportunities, unique experiences and story-telling opportunities that collectively amount to significant and meaningful acts of reconciliation for Indigenous people and all Canadians.
Building on improvement and knowledge sharing
At Parks Canada, we value knowledge sharing as it is a key to innovation engagement. We believe that learning reinforces our ability to think and to solve issues. A variety of projects were developed to improve our learning experiences – true enablers to a better communication through out the Agency.
Experimentation – Language partner

In 2017, the Parks Canada Innovation Lab launched Telefun, a language partners program whose goal is to enable members of the Parks Canada team to team up with a partner anywhere in Canada to practise their second language in a friendly and relaxed atmosphere.
The Parks Canada Innovation Lab set up a pilot project to test out the first approach, which required minimum coordination and online resources. In the first iteration of Telefun, the participants could register on Parks Canada's intranet and independently contact a partner or buddy. There was a lot of enthusiasm for the pilot project, with more than 60 participants across the country.
Their feedback at the end of the pilot project indicated that not everyone agreed on what the program should offer. Some told us they were too shy to talk to a partner.
As a result of the feedback received from the pilot project, the Telefun program was altered to provide some new options:
Shadowing by a coordinator
Participation in a spontaneous discussion group (chat tool) for people in a hurry
Automatic shadowing or pairing
Introductory message templates sent as soon as shadowing is established, in addition to approaches and topics of conversation proposed in the tool box
The improved program, launched in September 2017, already has many participants. An upcoming assessment will make futher improvements to the program possible. The interest shown by team members in Telefun and the feedback received shows that the program is meeting a real need.
The Parks Canada Orientation Portal was launched at the beginning of April 2017 in order to meet the growing need to have a single platform across the Agency for onboarding, orientation, integration and support of new members and hiring managers. The launch coincided with the operating season, as a large number of new employees joined for Canada 150. The portal is a point of reference throughout an employee's career. It has various resources for managers and employees, including the following: a welcome message from the Agency's Chief Executive Officer (with a video) and the Chief Human Resources Officer; a checklist for new team members and their managers, along with the critical pay-related elements; and reference guides and key links to various federal government resources, including sections on well being and careers.
For employees leaving the Agency to go on extended leave, either to take on new challenges or retire, the Orientation Portal helps to ease the transition by offering the tools needed for a smooth departure, both for managers and employees.
Parks Canada has a diverse team of experts broadly distributed across the country. Given the number of shared challenges and the long distances between team members, the Agency is always looking for innovative ways of engaging the expertise across the organization to tackle complex issues and continually improve.
We have implemented "Communities of Practice" (CoP) for issues of strategic importance to Parks Canada that would benefit from sharing and learning across the country. These are working-level communities that meet regularly to share information on best practices and lessons learned. Recognizing that these CoP were experiencing similar challenges, leaders from across six Communities of Practice were brought together to complete a ten week training session led by an external expert in the field.
Leaders from very different CoP realized they shared similar struggles, and were able to learn tips and tricks to improve engagement and communication through the training and from one another.
This initiative helped Parks Canada to ensure employees are able to build relationships and share knowledge around key issues and challenges integral for continuing to present and protect Canada's heritage places. Improving the way in which we tackle complex issues and share solutions through targeted training has impacted how we communicate and collaborate across a diverse set of CoP. Overall, these CoP help build relationships, share information and tools, solve problems, identify information gaps and manage information, they increase learning and improve our overall program and staff efficiency and effectiveness.
Workplace wellness
After the 2014 Public Service Employee Survey, several employee working sessions delved deeper into the survey's themes, and gained additional insights into its results. The Parks Canada's National Action Plan was created to address Agency-wide opportunities for improvement. Parallel to discussions on a National Action Plan, business units created local action plans of their own. These local efforts in particular reflect the potential for positive impacts from the ground up.
The following initiatives are a testament to Parks Canada team members' hard work and commitment to improving relationships.
"I was so excited to return from the lab to share with my manager and field unit superintendant how enriching I found the experience. Our key supervisory staff attended Mental Health First Aid training so we can be prepared to be support providers to our staff. This is just the beginning of a number of initiatives focused on health and respect."
The year started with an innovation lab focused on creating a healthier and more respectful workplace. More than 70 team members participated in one of the 10 focus group sessions and in-person workshops. They told us about what health and respect meant to them and they shared a number of great ideas to enhance workplace wellness. Those rich conversations continue to guide the Agency's efforts in this area.
"Act with an open heart. Listen without judgement. Be mindful of how your actions affect others."
At Parks Canada, our team members are some of the most resilient and hardworking individuals. However, to be at our best, and our most resilient, we need to take care of both our physical and mental health. Our Mental Health and Wellness Champion has taken a front and centre role in supporting wellness initiatives to ensure the continuing health of team members. Regular monthly communication from our champion promotes awareness and the importance of continued dialogue and action in support of workplace wellness.
"When we run into challenges with current employees who may have long-term illness or injuries, Inuvialuit leadership is often engaged at a high level about field unit efforts to support the employee. Depending on the nature of individual circumstances, the IRC is sometimes able to provide support directly or indirectly to these individuals to assist in the recovery process as well as the return to work process."
Under the direction of the 1984 Inuvialuit Final Agreement, the Western Arctic Field Unit draws on the support of wellness strategies that are born out of local initiatives and needs.
The Inuvialuit Final Agreement shapes the relationship between the Inuvialuit Regional Corporation (IRC) and the Government of Canada. In the context of the Federal Public Service Mental Health Strategy, this means that the field unit works with the IRC on cases of mental health and wellness initiatives. Both the IRC and the field unit recognize the benefits of some initiatives being led by IRC in support of needs related to grief, trauma and other emotions expressed by Indigenous employees.
Over the last three years, there has been closer and more regular dialogue between the IRC and the field unit team. In remote places, where the availability of health services may be limited, Western Arctic Field Unit has partnered with the IRC to find solutions, which enable employees and their families to find the help they need to support health and wellness issues.
The Healthy and Vibrant Workplace Initiative was launched within the Indigenous Affairs and Cultural Heritage Directorate (IACHD). This initiative is composed of a wide array of team members from across the country, participating in a workshop facilitated by staff from the Centre for Values and Ethics to develop a strategic action plan based on staff input. Four key action items were identified, and a number of initiatives were advanced under each of them:
Improve the support and tools for staff to do their work.
Improve internal communications and foster a sense of connectedness among the IACHD team.
Support professional development and training.
Provide meaningful recognition.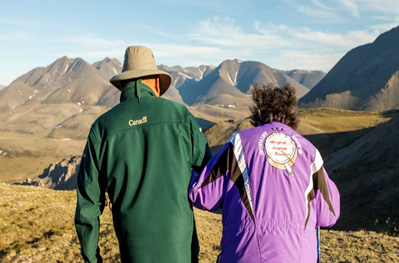 These concrete actions created a momentum toward a culture shift of constant improvement and more open communication with respect to Work Place Wellness. Consequently, priorities have broadened and shifted, keeping the initiative future forward. For example, IACHD has shown its commitment to promote and support a healthy and respectful workplace by holding its first workshop on mental health. Middle managers and directors took part in the first workshop but the goal is to have additional workshops for the entire team in 2018-19.
The passion, dedication and commitment of people who work at Parks Canada shine brightest when they help others – in this case, their fellow colleagues.
Parks Canada adopts innovative processes and tools
At Parks Canada, our visitors are the centre of our day-to-day focus. To improve their experience in our heritage places, particularly in 2017, we improved our internal and external communication tools, broadened the ways that we reach our visitors and reviewed some of our administrative processes.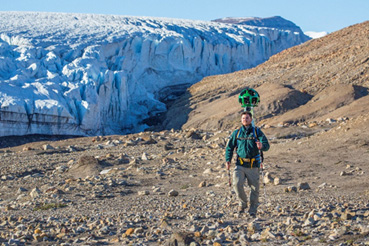 Google Expeditions is a novel virtual reality learning product. "Expeditions" are comprised of guided and narrated virtual "field trips" that make use of Street View and allow you to experience stunning panoramic imagery (360º) supplemented with text based descriptive content. In 2017, visitors to Ottawa's Inspiration Village who stopped by the Parks Canada booth were able to test out several immersive and virtual journeys to Parks Canada places. The innovative pilot project explored the potential for using the experience to reach more Canadians where they live and work as part of an urban outreach initiative. To experience Google Expeditions, you simply use a pair of special glasses that are equipped with a smartphone. Parks Canada team members help out by using a tablet computer to guide participants on a virtual "field trip" featuring spectacular and rarely seen 360º imagery of Kluane National Park and Reserve, Pacific Rim National Park Reserve, and Kejimkujik National Park and National Historic Site. The pilot project was a great success! Stay tuned for more exciting opportunities to connect virtually to these stunning Canadian landscapes!
Prince Edward Island (PEI) Field Unit BAMtext Notifications
In an effort to ensure timely communications with all staff and increase opportunities for visitors to communicate with Parks Canada staff, the PEI Field Unit developed a text-based system, BAMtext.
As an internal communication tool, BAMtext was used to provide updates on relevant information to staff about their shared workplace. For example, the service is used to:
Bring attention to staffing actions as they are posted.
Notify of training opportunities, meetings and staff functions.
Call to action for specific groups, such as flaggers to respond to particular situations.
Notify all staff of parking conditions or other visitor concerns as they arise so that information can be conveyed to visitors.
As staff signed up for the service, employees were sorted into groups to ensure communication to selected people on specific issues (i.e., prevention staff, gate staff, field staff, Green Gables staff, etc.). The system also allowed for the option of sending text messages out to the entire distribution list for information relevant to all field unit employees.
In addition to using the BAMtext as a staff communication channel, the PEI field unit also used this system as a type of electronic "comment card" for visitors. Posters, brochures, rack cards and other promotional products invited visitors to provide feedback by texting it to a number that is linked to a secure system "dashboard". Staff picked up the comment and responded through the secure system, so that both the sender and the responder's numbers are protected. In PEI National Park, this service was used in both campgrounds, each with a dedicated number so as to ensure staff are able to identify the general location from which the text is sent. PEI piloted the BAMtext service in the latter part of 2016, but resumed the service for the entire operational period in 2017. BAMtext was an innovative solution to increase efficiency of communication channels amongst staff and between staff and visitors.
"Some people told us that they waited weeks before discovering that the order they had sent was non-compliant and that it had never been processed. Others admitted that they did not know exactly where to find the information on placing an order due to the multiple changes that occurred with the Shared Services Canada system."
Parks Canada launched a new Service Portal this fall, which reduced the time it takes to procure a standard computer from several weeks to several days.
The initial idea arose in the course of cross-country consultations. One irritant was brought up consistently during discussions with employees: the difficulty of obtaining IT equipment in a timely manner.
As a result, the Office of the Chief Information Officer (OCIO) team began designing an IT procurement system to be managed internally. The concept is simple: purchase a batch of standard computers from Shared Services Canada and invite managers throughout the Agency to place an order internally and receive the item a few days later.
Besides reducing wait times, the purpose of the system was to simplify the ordering process. To do so, the OCIO and the Parks Canada Innovation Lab sought the assistance of about 20 team members.
The Service Portal was launched this fall, and while the work is far from complete, the efforts have already started to bear fruit. Managers appreciate the simplicity of the procurement system, which also allows them to save time, as all of the information can be found in one place. The order processing speed also improves productivity and goes a long way toward reducing the stress of employees who are waiting for new equipment.
As the Agency prepared to welcome a record number of visitors from Canada and the world, the Chief Financial Officer Directorate worked in consultation with managers from across the country to facilitate the delivery of Canada 150 activities by improving financial processes and tools.
Some financial business processes were simplified to reduce the administrative burden and allow for the right balance between operational flexibility and risk management. Also, a streamlined review and approval process of all contribution agreements was implemented.
Several new strategic sourcing procurement tools were created (e.g. standing offers and supply arrangements) to provide a faster and more efficient mechanism to meet Agency needs.
All of these initiatives proved to be effective in supporting the Agency in the delivery of Canada 150 activities. While the celebrations surrounding Canada 150 were the trigger for these initiatives, they will remain in place for future years.
Bilingual Lexicon – Enhancing our Communications
"We quickly tested a prototype of the lexicon with team members, even though we knew that we were still far from the final product. This approach provided us with candid feedback from users and enabled us to better understand their needs. Without this experimental phase, we would not have arrived at the tool that we have today."
Parks Canada has developed a bilingual lexicon for use by all Agency team members, contributing to excellent communications in both official languages.
"Réserve de ciel étoilé", "corps du ciel profond", "cub-of-the-year", "benchmark ecosystem" are a few example of terms and expressions used in relation to activities at Parks Canada, the equivalents of which are not necessarily known in the other official language by people using them.
After months of consultations, creating partnerships and entering thousands of terms in the database, the Parks Canada Bilingual Lexicon has been posted on the Agency's Intranet site.
The lexicon includes a list of over 2,400 expressions, names and equivalent terms in English and French commonly used by Parks Canada team members and their collaborators, as well as expressions to avoid, contextual information and links to reliable sources, and explanatory notes.
Looking ahead to 2020
Building on the momentum generated from a successful Canada 150 year, Parks Canada is excited to have a positive outlook on innovation for future years. We recently set up an innovation committee within our Agency. The committee is made up of various team members representing each of our business units. We also consult with our leadership team in order to remain abreast of innovation issues at Parks Canada, and we coordinate our efforts to bring about change, rethink the way we work and share innovative solutions with everyone.
Parks Canada is constantly evolving and will work in the coming years to continue to improve internal communications, which is a real challenge for a decentralized organization that is physically present across Canada.
We will continue highlighting the importance of facilitating cultural change to incorporate innovative practices and contributing to better serving Canadians.