Hiking
Kejimkujik National Park and National Historic Site
Hiking is one of the most popular activities at Kejimkujik. Enjoy many front country, backcountry, and seaside trails of different lengths and levels of difficulty. Experience a variety of habitats and scenery and places of cultural and natural significance. Dogs must be kept on leash.
No bridge at Jakes Landing
Please note: The Jakes Landing floating bridge will not be in place for the 2023 season.
There is no trail connection between Jeremy's Bay Campground and Jakes Landing to Merrymakedge and beyond.
Take a hike at Kejimkujik
Trails
Trails vary in length so everyone can have the opportunity to explore. Ensure dogs are kept leashed to avoid confrontations with wildlife.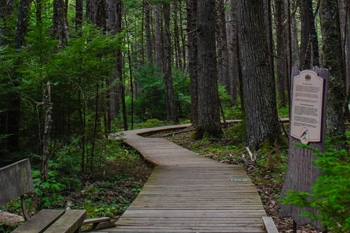 Self-guided trails are a great way for you to learn about Kejimkujik and the natural and cultural resources it protects.
Interpretative panels offer information as you move along, so you can walk these trails at your own pace.
Self-guided frontcountry trails at Kejimkujik:
Safety – A Shared Responsibility
Please help us ensure everyone has a safe and enjoyable visit.
Do not approach or feed wildlife.
Staying on the trail protects trailside vegetation.
Do not enter restricted areas.
Bike only on designated biking trails.
Bikers yield to hikers.
Protect yourself against ticks. Cover up, spray and self-check!
Please keep your pets on a leash. Pets off-leash may disturb and harm wildlife or other visitors.
Backcountry campsites are for registered campers only, please respect their privacy.
Black Bears: They prefer to avoid humans but may be attracted if you leave food, coolers, or garbage out. Store food and waste securely at all times.
If you see a coyote or a bear, don't run; back away slowly, act big, and make noise.
Please report bear or coyote sightings to staff at the Visitor Centre.
Provincial Motor Vehicle legislation is applicable and enforced in Kejimkujik. It is unsafe and illegal to ride in the back of trucks. Speeding and failure to stop at the entrance kiosk poses a safety hazard and is against the law.
Summer:
Call the Visitor Centre: 902-682-2772
Email: kejimkujik@pc.gc.ca
Ambassadors: 902-298-0668
Police, Fire, Ambulance: 911 (emergency only)
Winter and spring:
Call 902-682-2770 Monday to Friday, 8:30 am to 4:30 pm.
Email: kejimkujik@pc.gc.ca
Police, Fire, Ambulance: 911 (emergency only)