Visitor Information and Discovery Centre
Forillon National Park
The perfect place for a first contact with the park!
You will find various services and activities, such as :
Camper information and registration
Laundry facilities, 24-hour self-service
Free Wi-Fi
Gender-inclusive washrooms
Electric vehicle charging stations
Bike repair station
Discover – Commemorate – Protect
This exhibition in this building illustrates the natural and cultural mosaic patiently shaped by nature and time on Forillon land. You will discover all the biodiversity of this expanse of sea and mountains, as well as the treasures hidden in its rocks and human memory.
Appalachian memories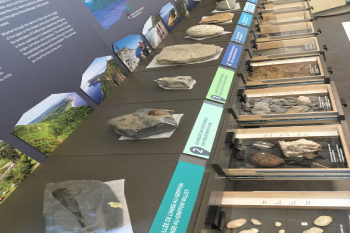 The exhibition tells the geological history of Forillon through nine easily accessible sites of interest. Will you be able to "Read the lines in the rock"?
Land of remarkable nature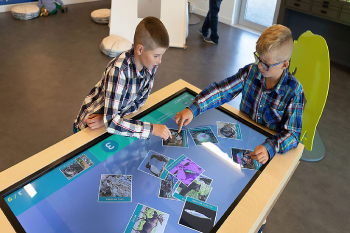 From the low taiga of Penouille to the summit of Mount Saint-Alban, the Forillon trails reveal a surprisingly contrasting fauna and flora. Have fun matching species to clues, which will reveal some of the amazing features of the park's flora and fauna.
Promotional video of the interactive table
Sea of unsuspected wonders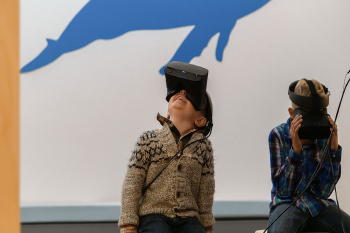 The cold, oxygenated waters of the Gulf of St. Lawrence and Gaspé Bay support an impressive array of marine life. Dive, with the help of virtual reality helmets, into the waters surrounding Forillon National Park, and have fun finding certain marine species.
Exceptional meeting point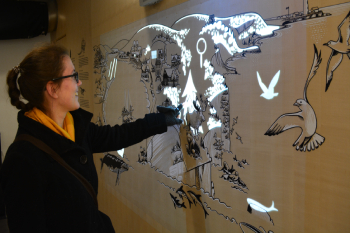 Life meets here, in Forillon. The bird finds its nest there. The plant, its soil. The fish, its current. The human, their space. Have fun understanding the richness of Forillon's ;and by activating the animations on the interactive wall.
The park's ecosystems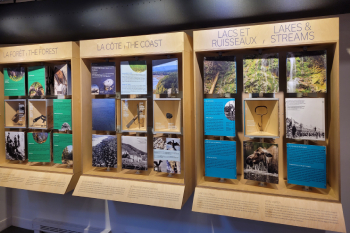 This part of the exhibition is made up of rotating triangles in which you will discover highlights, artifacts and educational content about Forillon National Park's different ecosystems. Can you rebuild and identify the main image, which illustrates the ecosystem?
Differing perspectives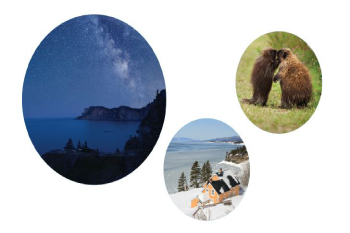 Forillon leaves a strong imprint for those who have contemplated, studied and lived there. Here are the views of the Mi'gmaq community of Gespeg, some expropriated people, artists, scientists and visitors, as time goes by, and their inspirations.
The film "A gem at land's end"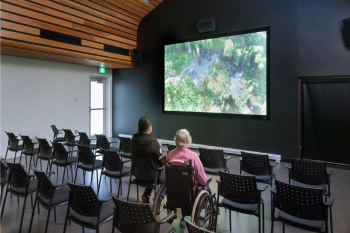 Whether it is for the exceptional beauty of its sea and mountain landscapes, the richness of its fauna and flora, or the moving authenticity of its heritage sites, Forillon is abound in natural and cultural treasures. However, few suspect that, beneath every step they take, lies a fascinating story, written right in the rocks of Forillon. Learn more with the documentary film "A Gem at Land's End".
Duration : 20 minutes.
English and French versions alternate every 30 minutes
Children's corner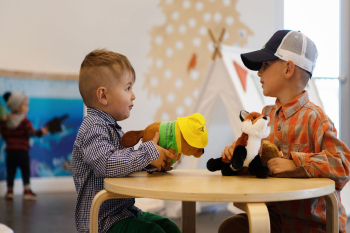 What could be better than a small area dedicated to children so that they can have fun during their visit. This corner includes a magnificent mural representing Forillon by artist Mylène Henry. On this mural, children can move different magnetic characters to create fun stories based on their imagination.
Le Havre Forillon by Griffon Aventure
Bistro au Havre de Forillon
Take advantage of the maritime atmosphere to eat and drink our local products, our tasty ready-to-eat meals as well as our famous seafood chowder. Also, sandwiches, ice cream and groceries.
Date :
June 22 to September 3
Every day: 8:30 a.m. to 6:00 p.m.
581-887-1010
havreforillon@griffonaventure.com
https://havreforillon.com/en
Facebook In French only
Get a front row seat to a breathtakingly lively natural amphitheatre when you embark on this cruise. Observation of seals, sea birds and mackerel fishing.