PEI National Park recovery
Prince Edward Island National Park
When you visit PEI National Park in 2023, we ask for your continued patience and support while our team repairs, protects and conserves Parks Canada administered places on PEI post-Fiona. The park remains an incredibly beautiful and resilient place full of breathtaking views and – especially this year – signs of new growth and change. We are so proud to share it with you and we ask that you do all you can to help it thrive into the future for generations to come. Respect any areas of closure. Pay attention to signs showing safe passage. Be patient with Parks Canada team members as they provide guidance and share information.
We can't wait to see you again. Come and watch us as we GROW!
The maps and menu below outline current and upcoming changes to infrastructure and the visitor offer by location. Visitors are advised that construction will be ongoing at various dune crossings in PEI National Park throughout the 2023 operational season. Visitors should not seek to gain access to the beach by walking around broken infrastructure and crossing over the dunes.
A full
dune closure
remains in effect for PEI National Park. Visitors must not walk over dunes for any reason.
Cavendish-North Rustico
1 - Homestead Trail
2 - Cavendish Campground
3 - Cavendish Main Beach dune crossing
4 - Cavendish Beach day use area
5 - Cavendish Grove trails
6 - Cavendish Grove day use area
7 - Oceanview (parking lot)
8 - Flat Rock
9 - MacNeills Brook Beach
10 - MacKenzies Brook
11 - Orby Head
12 - Cape Turner
13 - North Rustico Beach
14 - North Rustico day use area
Brackley-Dalvay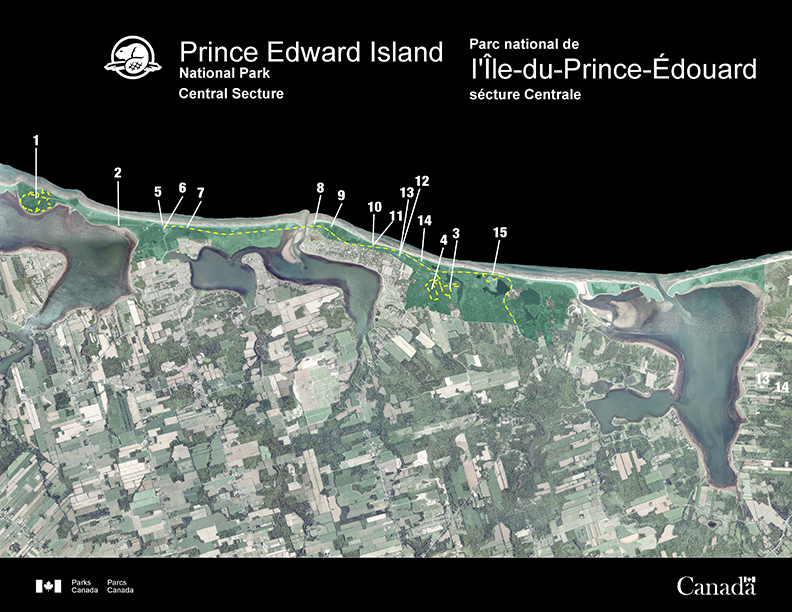 1 - Robinsons Island Trail System

The Robinsons Island Trail System and new multi-use trail are scheduled to open in 2023.
2 - Robinsons Island Road

Robinsons Island Road remains closed to vehicular and pedestrian traffic while construction is underway to remove the asphalt from the causeway and prepare an unpaved multi-use trail on the roadbed.
3 - Bubbling Springs
4 - Farmlands trails
5 - Brackley Beach dune crossing
6 - Brackley Beach day use area
7 - Shaws Beach
8 - Covehead Lighthouse Beach
9 - Stanhope Cape Beach
10 - Ross Lane Beach dune crossing
11 - Ross Lane day use area
12 - Stanhope Campground
13 - Stanhope Main Beach dune crossing

Open

Wheelchair ramp not available in 2023. Accessible beach offer will be available at Brackley Beach and Cavendish Beach by July 2023.
14 - Stanhope Main Beach day use area
15 - Dalvay Beach
Greenwich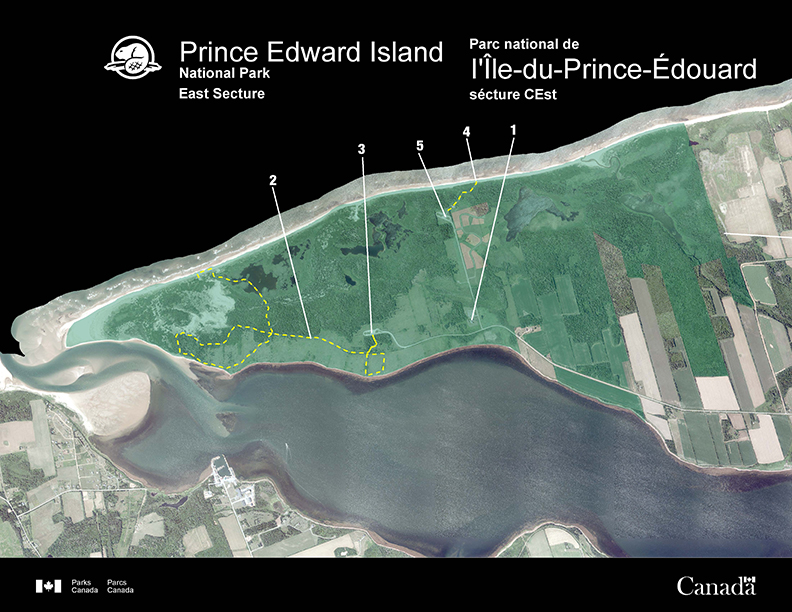 1 - Greenwich Interpretation Centre
2 - Greenwich trails
3 - Greenwich trails day use area
4 - Greenwich Beach
5 - Greenwich Beach day use area

Open
What can visitors do?
In 2023 and beyond, remember this: your footsteps matter.
Give our dunes space to grow. Stay back from
all
dune areas. Watch for "baby" dunes and new growth of spiky marram grass. Stay away. Be mindful of signage guiding you. It's there for a reason. Walk only on designated pathways. Don't make exceptions.
We encourage you to take the Park Promise and make a commitment to protecting the environment so it can be enjoyed by future generations.
View archived Fiona updates.
Do you have any comments or questions? Please feel free to reach out: 902-566-7050.