Western Brook Pond
Gros Morne National Park
Thank you for your patience as we work hard to renew the Western Brook Pond trail surface and boat operation facilities.

As part of efforts to share information and updates regarding the Western Brook Pond project, Parks Canada team members have compiled a set of "Frequently Asked Questions" based on queries received from local residents, stakeholders and the general public. Additionally, a "Timeline" has been created to trace the evolution of the trail from its beginnings to present-day, providing insight into the origins of the infrastructure project at Western Brook Pond. Parks Canada appreciates the interest expressed by the public in our work and encourages you to visit this page often, as updates will be added here as they become available. We also invite you to continue sending us your questions so that we can provide clear and accurate information about all aspects of this project.
Fact sheets/project updates:
Infrastructure Changes at Western Brook Pond 2017-2019
Parks Canada is investing an unprecedented $3 billion dollars over 5 years to support infrastructure work to heritage, visitor, waterway and highway assets located within national historic sites, national parks, and national marine; the largest investment in its history. This investment supports work to ensure Western Brook Pond remains a safe, high-quality and enjoyable experience for generations to come. Through these investments, Parks Canada is protecting and preserving our treasured places, while contributing to growth in the tourism sector.
Investment
Parks Canada invested more than $3 million in the facilities at Western Brook Pond and to carry out necessary repairs.
Visitor Data
According to a recent visitor survey, many visitors to Gros Morne National Park who took the boat tour at Western Brook Pond describe it as the highlight of their visit (Visitor Information Program Survey, 2015. In 2017, boat tour users accounted for 40,000 hikers on this trail, a 46% increase since 2013.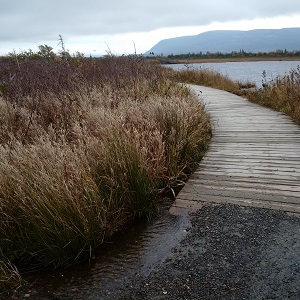 Infrastructure Issues pre-2017
With such high visitor appeal, the previous parking lot was frequently beyond capacity, resulting in a public safety concern with large numbers of vehicles parked on the shoulder of Route 430. The trail, with long sections of narrow and sometimes unstable boardwalk, could not accommodate this level of use, causing problems with congestion and creating concerns regarding the safe transportation of fuel and other supplies required for the operation of the boat tour. Some sections of the trail were also prone to flooding, erosion and washouts, necessitating almost daily maintenance.
The pressure treated wood boardwalks of the Western Brook Pond trail were subject to regular flooding and are subject to deterioration over time.
The work that has been completed includes:
A replacement of the solar powered washroom facilities at the trailhead.
An expansion of the parking lot adjacent to Route 430 by 50%.
Construction of a new off-grid storage building near the parking lot.
Re-construction of the trail, including a realignment, lowering of grades, and a hardening of trail surfaces to allow for a longer life in our harsh environment, reduced maintenance costs, and the safe transport of supplies such as fuel for the boat tour operations.
Widening of the trail to allow for multi-use activities (walking, cycling, strollers, wheelchairs, etc.) and emergency vehicle access.
Replacing the wharf on Western Brook Pond.
Repairing the boathouse and replacing the building envelope to protect it from extreme winds.
Dredging of the pond near the boat house to allow for boat storage in early fall when water levels are naturally low.
These expansions and upgrades will help ensure the quality and reliability of visitor facilities and continue to allow Canadians to connect with nature.
Environmental Protections
All proposed infrastructure work is scrutinized to mitigate environmental impacts. Some design features and mitigations for the Western Brook Pond project include: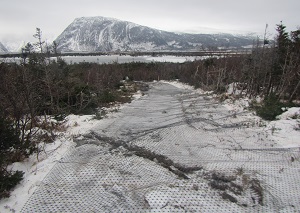 To the greatest extent possible, the new trail will follow the footprint of the previous trail except for some realignments that are necessary to address drainage and flooding issues. The work also involved resurfacing the trail with aggregate and installing culverts that are large enough to accommodate natural water-flow and possible increases in runoff due to climate change.
The new trail bed is built on a base of rock aggregate placed on geo-grids, allowing the removal of narrow, pressure treated wood boardwalks that are subject to deterioration over time.
The surface of the finished trail tread is 4.8 m wide; while wider than the previous trail, the finished trail will be narrower than is currently visible during the construction phase. The increased width is required to better meet the volume and type of pedestrian traffic, accommodate peak periods associated with the boat tour, and safely accommodate transport of supplies needed for the boat tour and emergency evacuations.
Vegetation cutting and trail bed construction took place during winter to avoid disturbing nesting songbirds and other wildlife. Timing most of the work during winter, while the ground was frozen and thus protected, limited impacts on soils and vegetation. Initial construction, including laying the base and a temporary surface on the trail, was carried out in Winter 2018 while final surfacing of the trail occurred during winter 2019, after the base has had a year to settle and stabilize. Vegetation in areas that were cleared during construction will be allowed to grow back to the edges of the trail once the work has been completed.
Timeline and Visitor Impact
The trail has now re-opened year-round.
Starting in 2019 and continuing over the coming years, Parks Canada will continue to restore and monitor re-vegetation along the trail. Plans are also underway to design and install visitor experience elements such as interpretive panels, rest areas and viewpoints to meet the needs and interests of the broad range of visitors using the trail. This finishing work will not impact visitor access to the trail.
Information on this project and others happening in 2020 can be found on www.parkscanada.gc.ca/grosmorne or by contacting us at (709) 458-2417 or grosmorne.info@pc.gc.ca.