Bulletins
Kootenay National Park
RESTRICTED ACTIVITY: Water Based Activities
Issued:
October 26, 2023
Ends:
March 31, 2024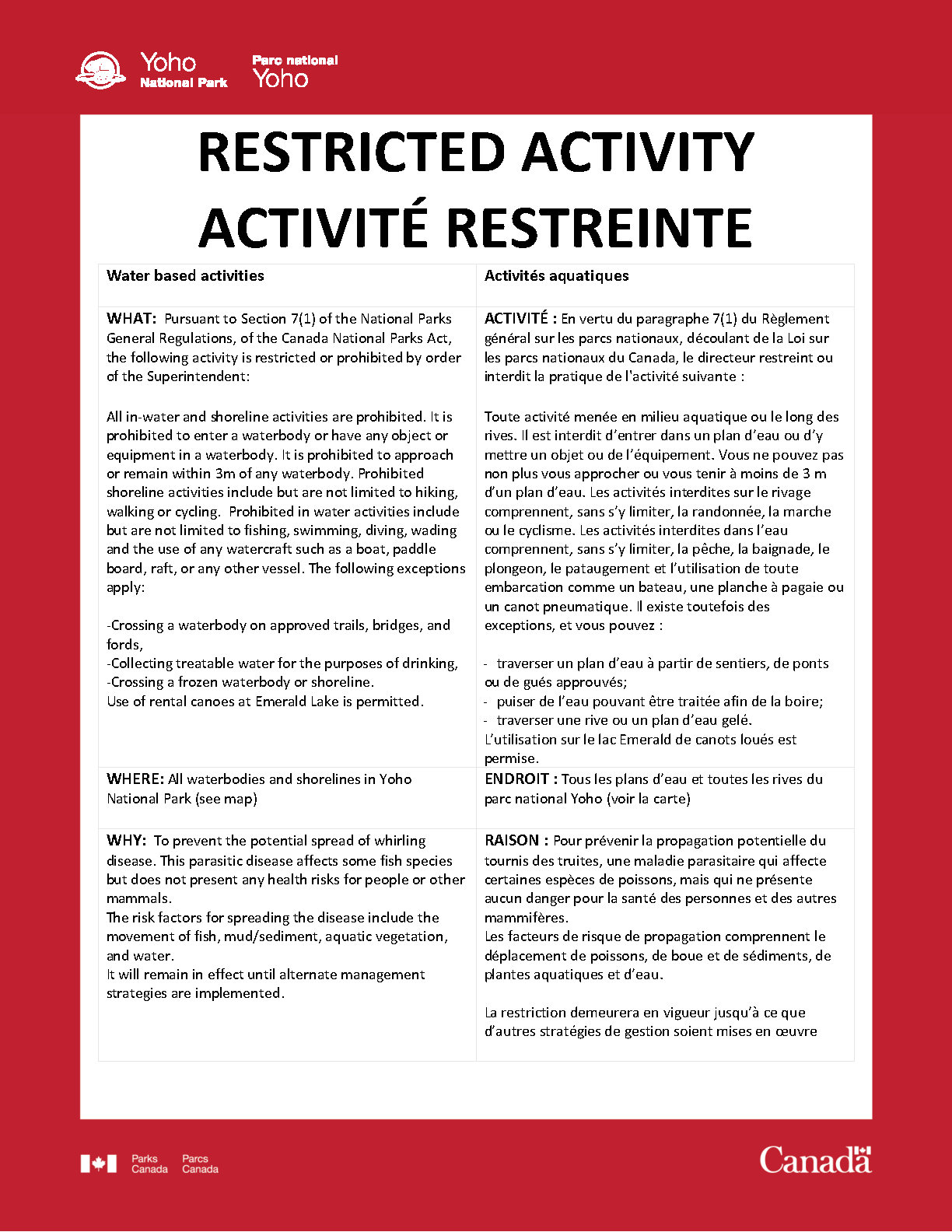 WHAT: Pursuant to Section 7(1) of the National Parks General Regulations, of the Canada National Parks Act, the following activity is restricted or prohibited by order of the Superintendent:
All in-water and shoreline activities are prohibited. It is prohibited to enter a waterbody or have any object or equipment in a waterbody. It is prohibited to approach or remain within 3m of any waterbody. Prohibited shoreline activities include but are not limited to hiking, walking or cycling. Prohibited in water activities include but are not limited to fishing, swimming, diving, wading and the use of any watercraft such as a boat, paddle board, raft, or any other vessel. The following exceptions apply:
-Crossing a waterbody on approved trails, bridges, and fords,
-Collecting treatable water for the purposes of drinking,
-Crossing a frozen waterbody or shoreline.
Use of rental canoes at Emerald Lake is permitted.

WHERE: All waterbodies and shorelines in Yoho National Park (see map)
WHY: To prevent the potential spread of whirling disease. This parasitic disease affects some fish species but does not present any health risks for people or other mammals.
The risk factors for spreading the disease include the movement of fish, mud/sediment, aquatic vegetation, and water.
It will remain in effect until alternate management strategies are implemented.
PENALTY: Violators may be charged under the Canada National Parks Act: maximum penalty $25 000.
Start date: 2023-10-26
End date: 2024-03-31
Approved by: François Masse, Superintendent, Lake Louise Yoho Kootenay Field Unit