Bulletins
Glacier National Park
Restricted Activity - Wildlife Attractants
Issued:
June 09, 2023
Ends:
October 12, 2023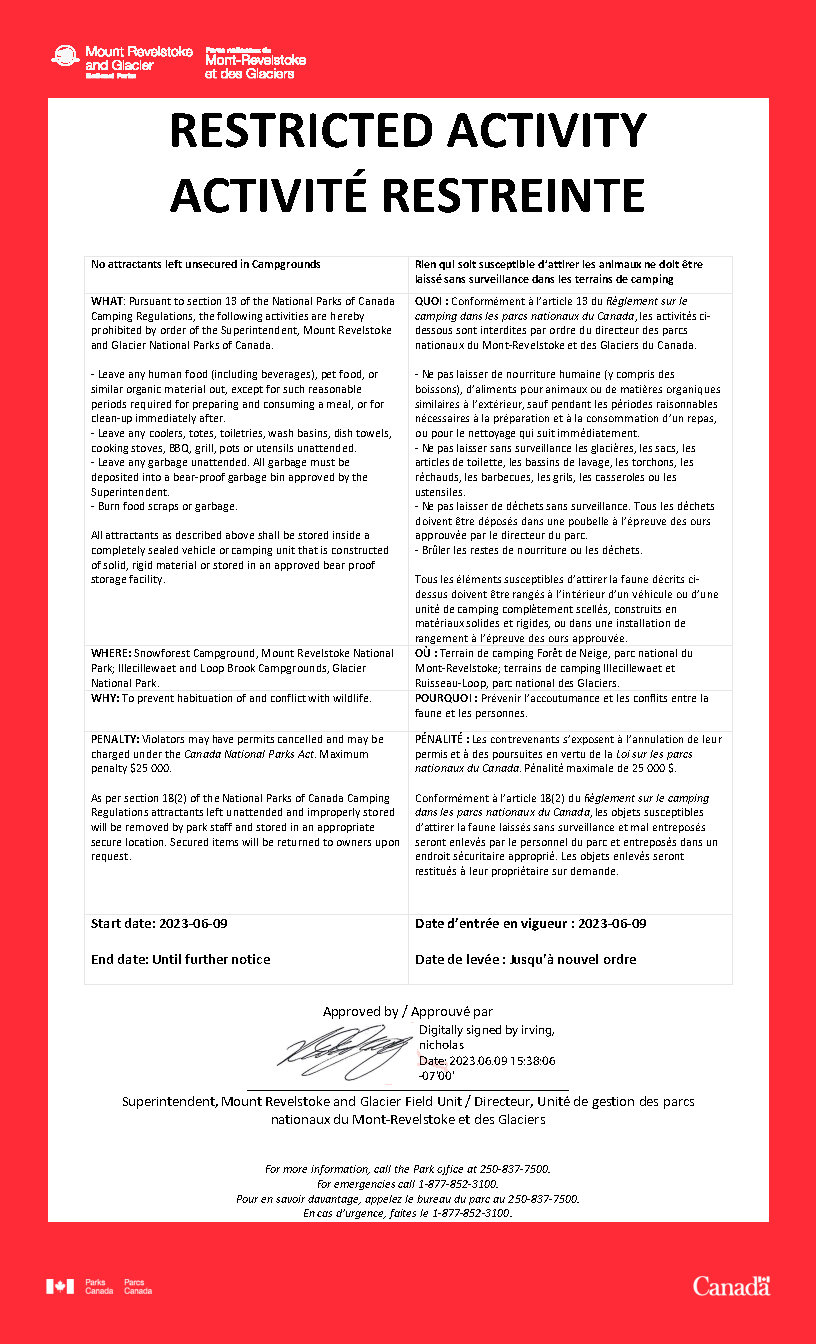 No attractants left unsecured in Campgrounds
WHAT: Pursuant to section 13 of the National Parks of Canada Camping Regulations, the following activities are hereby prohibited by order of the Superintendent, Mount Revelstoke and Glacier National Parks of Canada.
- Leave any human food (including beverages), pet food, or similar organic material out, except for such reasonable periods required for preparing and consuming a meal, or for clean-up immediately after.
- Leave any coolers, totes, toiletries, wash basins, dish towels, cooking stoves, BBQ, grill, pots or utensils unattended.
- Leave any garbage unattended. All garbage must be deposited into a bear-proof garbage bin approved by the Superintendent.
- Burn food scraps or garbage.
All attractants as described above shall be stored inside a completely sealed vehicle or camping unit that is constructed of solid, rigid material or stored in an approved bear proof storage facility.
WHERE: Snowforest Campground, Mount Revelstoke National Park; Illecillewaet and Loop Brook Campgrounds, Glacier National Park.
WHY: To prevent habituation of and conflict with wildlife.
PENALTY: Violators may have permits cancelled and may be charged under the Canada National Parks Act. Maximum penalty $25 000.
As per section 18(2) of the National Parks of Canada Camping Regulations attractants left unattended and improperly stored will be removed by park staff and stored in an appropriate secure location. Secured items will be returned to owners upon request.
Start date: 2023-06-09
End date: Until further notice