Avalanche terrain map
Waterton Lakes National Park
Avalanche terrain ratings for trails in Waterton Lakes National Park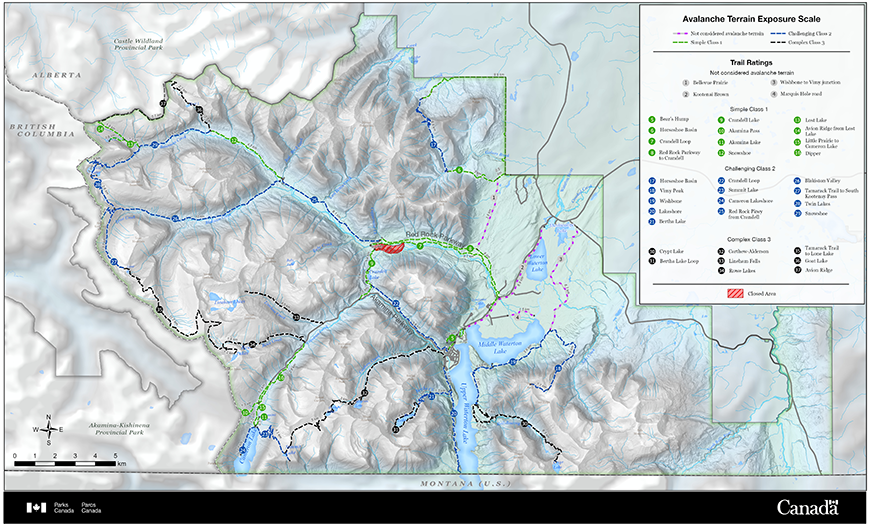 Avalanche terrain ratings - Text version

Trail ratings

Not considered avalanche terrain

Bellevue
Kootenai Brown
Wishbone to Vimy junction
Marquis Hole Road

Simple Class 1

Horseshoe Basin
Crandell Loop
Red Rock Parkway to Crandell
Crandell Lake
Akamina Parkway to Rowe
Akamina Pass
Akamina Lake
Snowshoe
Lost Lake
Avion Ridge from Lone Lake

Challenging Class 2

Horseshoe Basin
Vimy Peak
Wishbone
Lakeshore
Bertha Lake
Crandell Loop
Summit Lake
Cameron Lakeshore
Akamina Parkway from Rowe
Red Rock Parkway from Crandell
Blakiston Valley
Tamarack trail to South Kootenay Pass
Twin Lakes
Snowshoe

Complex Class 3

Crypt Lake
Bertha Lake Loop
Carthew-Alderson
Lineham Falls
Rowe Lakes
Tamarack Trail to Lone Lake
Goat Lake
Avion Ridge
Know before you go
Will your group be travelling in avalanche terrain?
Does your group have the skills, knowledge and training to travel in avalanche terrain?
Are you carrying transceivers, shovels and probes?
Can you self-rescue? Do you have a plan?
Do you know the emergency number?
Have you checked the current avalanche bulletin and weather forecast?
Have you checked out with someone?
Do you have any other route options?
Phone numbers
Emergency number with cell phone: 911 (state that you are in Waterton Lakes National Park)
Backcountry emergency number with satellite phone: 1 403 762 4506
Remember, cell phones are not always reliable in the backcountry.