Red chairs
Saint-Ours Canal National Historic Site
Enjoy the moment!
Since the summer of 2015, Parks Canada has installed a series of red Adirondack chairs at the Saint-Ours Canal so that visitors can enjoy breathtaking views of the rich historical and natural heritage of this exceptional site.
Each location has been carefully selected enabling you to pause and explore the narratives of the landscape as you connect with history and nature.
Time to Connect
Where are the red chairs?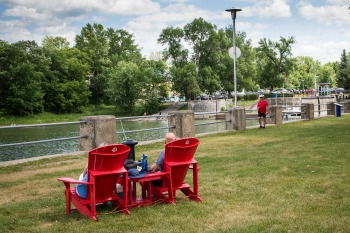 Any means is fine for going in search of the red chairs along the the Saint-Ours Canal, whether on foot, by bicycle or even by boat! While some chairs are easy to spot, others require a little more effort.
The adventure doesn't end at the Saint-Ours Canal! Parks Canada has installed red Adirondack chairs in the most beautiful landscapes in the country, including those featured in Quebec's other historic canals. What are you waiting for to discover them?
Carillon Canal National Historic Site
Lachine Canal National Historic Site
Chambly Canal National Historic Site
Sainte-Anne-de-Bellevue Canal National Historic Site
Where did the red chair idea come from?
Initiated by Gros Morne National Park in 2011, Parks Canada's Red Chair Experience program has rapidly expanded to other national parks, national historic sites and national marine conservation areas across the country.
Installed in locations that are most emblematic of Canada, the red Adirondack chairs enable visitors to experience unforgettable moments in exceptional settings while connecting with nature and history.
For more information on the location of the red chairs in Canada